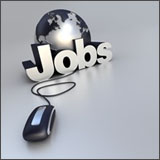 This article was originally published
here
By Angela Rose, BioSpace.com
News tickers, newspapers and news magazines seem to be full of headlines about the latest and greatest aspects of social media—particularly with the late 2012 launch of Facebook's Social Jobs Partnership. If you're a biopharma or life sciences employer or recruiter , you know it's all too easy to jump on the media bandwagon and ditch your old recruiting methods—like the job board.
Doing so is a bad idea. Like classified ads in the local paper used to do, job board postings work. They're a tried and true method for sourcing and connecting with qualified candidates—and niche job boards, like BioSpace.com, are even better. Consider these reasons job boards trump social media.
Social Media Requires Time
If you intend to use social media to find your next hire, prepare yourself to invest a significant amount of time in the process. Social media users are there for engagement and entertainment. This means updating your pages regularly, tweeting constantly, and searching for relevant content to post. It's the only way to attract potential candidates—and the work doesn't stop there. Once you've caught their attention, you have to keep it. You have to build a relationship. Do you have this kind of time?
Even if you do, or you have an assistant who does, you'll only have access to professionals who are active on the social media website you've chosen to use. It's a lot of work for very little return on investment. So much so, in fact, that one survey found 71 percent of the recruiters polled had never made a hire from Twitter. Sixty-four percent had not had any success with Facebook.
Job Boards are Efficient
On the other hand, job boards require little time investment. You write your job description, post it to a niche job board such as BioSpace.com, and reach thousands of active candidates with very little effort. You can also search the board's resume database, and doing so is a lot easier than searching most social media sites.
For example, if you want to search Facebook for potential candidates, you'll only have access to very limited info unless they've made their profile public. However, on the BioSpace.com job board, you can create a highly specific search that returns superior quality results.
Some Job Boards Attract Active and Passive Professionals
While only 16 percent of the US workforce is actively seeking a new job, many more are passively interested in new opportunities. BioSpace.com draws passive professionals to the website as well. How do they do it? The answer is by providing content that professionals in the biopharma and life sciences industries want and need. More than 400,000 unique monthly visitors enjoy articles on industry news and events as well as detailed data on the nation's hotbed regions.
Job Boards Produce Better Results
When you promote an open position on social media, you have to drive applicants to your employer site or a job board posting before they can submit a resume or complete an online application. Unfortunately, this complicates matters—and the more complicated it is to apply, the fewer the professionals who have the time to do so.
For example, on average, job boards have only a 6 percent conversion rate from social media. It stands to reason that the conversion rate to employer websites is equally dismal. This means you've lost up to 94 percent of your prospects after all that work. When job seekers learn of an opportunity from a job board, they are able to apply immediately. More of them do, producing better results.
While social media has its place in almost any recruiter's arsenal, it should not become the primary tool. Job boards like BioSpace.com offer ease of use, efficiency, active job seekers, passive professionals, and unbeatable results.
Attract the best candidates with Biospace Job Postings. Post a Job in minutes and find top life science candidates.
Check out the latest Inside Recruiter eNewsletter – March 13, 2013.
Sign up for the free Inside Recruiter eNewsletter.
Related Biotech Employer/Recruitment Articles
* 5 Keys to Capturing Top Talent
* Employment Offers Candidates Can't Refuse
* Recruiting Analytics: How Do You Measure Up?
https://www.captis.com/wp-content/uploads/2013/03/enewsletters.biospace.comonline_jobs_160-c47899d01d7c2e5de81273103de470d17b0ecc51.jpg
160
160
CAPTIS
https://www.captis.com/wp-content/uploads/2016/11/logo_transp_top_final.png
CAPTIS
2013-03-10 16:00:00
2017-03-22 17:01:46
Why Job Boards Trump Social Media