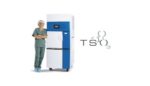 This article was originally published
here
TSO3 (TSE:TOS) said today it is dropping a distribution agreement with Getinge and that it inked a $20 million debt financing deal with a fund under advisement by Courage Capital Management to support commercialization of its Sterizone VP4 sterilizer.
The company's Sterizone VP4 is a low-temperature sterilization system which uses dual-sterilants of vaporized hydrogen peroxide and ozone for the terminal sterilization of heat and moisture sensitive medical devices. The system has a single pre-programmed cycle which can be used to sterilize a wide range of devices, the Quebec City-based company said.
In addition to dropping a distribution agreement with Getinge, TSO3 said that both companies agreed to allow TSO3 "unrestricted independent commercialization of its Sterizone VP4." TSO3 said it also agreed to acquire 230 Sterizone VP4s, of which 220 are from Getinge's inventory for $33,000 per unit, and that it would transfer Getinge's sales pipeline to TSO3 in "exchange for shared economics at the completion of sale," according to a press release.
TSO3 said both companies also agreed to transition responsibilities for service, maintenance and sale of consumables to TSO3 from Getinge.
"Getinge and TSO3 envision maintaining an ongoing collaborative relationship where TSO3 supplies and supports the Sterizone VP4 Sterilizer to satisfy Getinge customers looking for a total sterilization solution," TSO3 wrote in a press release.
In March, TSO3 said that it won expanded FDA 510(k) clearance for its Sterizone VP4 sterilizer, clearing a new feature of the system that the company claims can improve installation of the device and reduce oxygen supply requirements.
The post TSO3 drops Getinge, lands $20m debt round for Sterizone VP4 appeared first on MassDevice.
https://www.captis.com/wp-content/uploads/2018/08/TSO3-small-150x86.jpg
86
150
CAPTIS
https://www.captis.com/wp-content/uploads/2016/11/logo_transp_top_final.png
CAPTIS
2018-08-01 09:36:07
2018-08-02 01:41:21
TSO3 drops Getinge, lands $20m debt round for Sterizone VP4