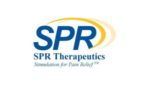 This article was originally published
here
SPR Therapeutics said today it raised $25 million in a Series C round of financing to support commercialization and further research of its Sprint peripheral nerve stimulation system.
The round was led by a "prominent family office" and Frontcourt Ventures, the Cleveland-based company said. As part of the funding, the company said it appointed former West Health CEO Nick Valeri to its board of directors.
"The SPR Therapeutics leadership team is comprised of recognized experts in the neuromodulation and pain management industries. I am excited to support Maria and her talented team as they make this innovative, groundbreaking technology commercially available to millions of people seeking non-opioid relief of chronic and acute pain," Valeriani said in a press release.
SPR Therapeutics said its Sprint PNS device is designed to offer a non-narcotic solution for the relief of chronic and acute pain, using a threadlike wire placed through the skin connected to a wearable stimulator to stimulate targeted nerve fibers for pain relief.
"The opioid crisis is personal to us at SPR, as our home state of Ohio has one of the highest drug overdose death rates in the nation. This funding will allow us to offer Sprint, a safe and effective pain-relief therapy, to more pain sufferers. Nick is an important addition to the SPR Board as he has deep expertise in successfully commercializing numerous, game-changing therapies. He is a visionary in the field of health care and has often been ahead of the curve in identifying global healthcare trends," prez & CEO Maria Bennett said in a prepared statement.
Last July, SPR said it won FDA 510(k) clearance for its Sprint peripheral nerve stimulation system designed to provide chronic pain relief.
The post SPR Therapeutics raises $25m to support Sprint PNS system appeared first on MassDevice.
https://www.captis.com/wp-content/uploads/2017/09/www.massdevice.comSPR-therapeutics-small-15-9bba1a4e107bc18610b4deb69d9d67aff0408e69.jpg
86
150
CAPTIS
https://www.captis.com/wp-content/uploads/2016/11/logo_transp_top_final.png
CAPTIS
2017-09-14 07:08:44
2017-09-14 11:02:55
SPR Therapeutics raises $25m to support Sprint PNS system