This article was originally published
here
November 6, 2014
By Mark Terry, BioSpace.com Breaking News Staff
BioSpace asked representatives from one of the world's largest pharmaceutical companies and one of the U.S.'s hottest up-and-coming biopharma companies to share what they're looking for in new hires and what trends they're projecting for the next couple years.
Experienced and Patient-Centered Scientists and Leaders
Despite their different approaches to the market, Sanofi and Incyte are looking for experienced scientists and executives with a deep understanding of their companies' missions.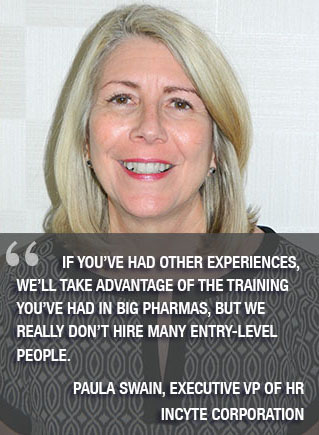 "We're primarily looking for folks who have experience in hematology and oncology. Those are our major therapeutic areas," says Paula Swain, executive vice president of human resources for Incyte. "It's also helpful if we can find people who have had smaller biotech experience. Many of the people we hire have worked in big pharmaceutical companies, but then done some work in smaller biotechs. That makes the adjustment to a smaller company that much easier if they've had that experience before."
Swain points out that Incyte currently has 580 employees. Sometimes people who come to a smaller company from a much larger company find the change in culture challenging. "The jobs here, which I think make it more interesting," says Swain, "provide people the opportunity to do broader types of work. They're not as narrowly focused as in big pharma. So the good news is that for people who like that, they fit in wonderfully here."
And, of course, companies want people who understand the mission and culture of the companies. Adaptability in the face of a fast-moving, quickly-changing industry is also of significant value.
"At Sanofi, we seek candidates who reflect our patient-centered, collaborative culture," says Carolyn Churcher, Sanofi's head of strategic staffing for North America. "We seek candidates who are forward-thinking and who can work transversely. Our employees must remain nimble in the changing healthcare environment."
Insiders' Advice
In today's 24/7 social-media world, networking can be a major factor, as well as having an understanding of industry trends. Sanofi's Churcher says, "We expect prospective candidates to be knowledgeable about trends in our industry, the therapeutic areas for our medicines, our pipeline and our portfolios."
Swain's advice emphasizes Incyte's size and the specificity of their hiring needs. As she mentioned above, Incyte prefers people who come with experience at both large and small companies. "Incyte is not the first biotech or pharma company you want to come to. If you've had other experiences, we'll take advantage of the training you've had in big pharmas, but we really don't hire many entry-level people. Even when we're recruiting scientists, we're usually recruiting them out of post-docs after their PhDs in chemistry and biology. But it's a really great place to come after you've had some experience that you can lock in on and really apply that expertise."
In terms of making yourself stand out from the pack, Churcher says, "Candidates who differentiate themselves with information beyond what is publically available leave a positive impression. These are people who create networking opportunities with Sanofi colleagues to learn about the position, the department and the Sanofi culture. Ultimately, well-informed candidates make well-informed decisions that benefit both the individual and Sanofi."
Near-Future Trends
Both companies, Incyte in particular, are in the process of moving products out of the R&D pipeline and into clinical development and commercialization. As a result, both companies are expecting a need for people with those sorts of background.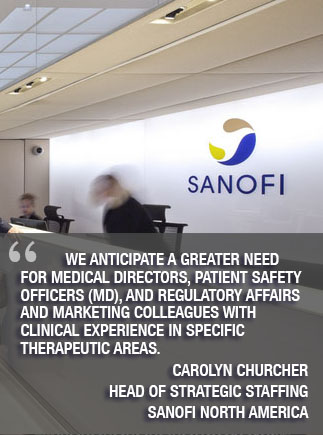 "We're really still hiring, now and ongoing, more oncologists, more MDs, and more clinical development kinds of folks," says Incyte's Swain. "We're really focusing our hiring now. Depending on how the products and our pipelines go, and how our trials go, we would expect to beef up our commercial organization over the next three years if we get approvals and other indications with other drugs. But clearly clinical development is the area we're expecting to grow."
Sanofi, on a bigger scale, is focusing on pretty much the same thing. "Based on our robust end-stage pipeline," says Churcher, "Sanofi is potentially launching many new medicines and treatments in the coming years. As a result, we anticipate a greater need for medical directors, patient safety officers (MD), and regulatory affairs and marketing colleagues with clinical experience in specific therapeutic areas and/or industry experience in managing and preparing for new product introductions."
In addition, Sanofi is expecting to increase the "biological sciences portions of (its) portfolio to complement the existing chemistry portfolio" in the R&D areas. "Regardless of the timeframe," Churcher said, "we are always seeking collaborative, innovative talent at Sanofi."
Help employers find you! Check out all the jobs and post your resume.
Check out the latest Career Insider eNewsletter – November 6, 2014.
Sign up for the free weekly Career Insider eNewsletter.
https://www.captis.com/wp-content/uploads/2014/11/enewsletters.biospace.combiospace-news-sanofi-incy-f971102a2a16d9ebd005566ea6614a30a8645a61.jpg
384
815
CAPTIS
https://www.captis.com/wp-content/uploads/2016/11/logo_transp_top_final.png
CAPTIS
2014-11-06 15:00:00
2017-03-22 17:19:39
Sanofi And Incyte Execs Exclusive: Future Hiring Trends And What They're Looking For In New Hires