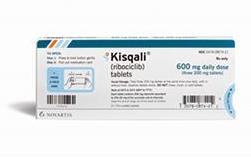 This article was originally published
here
PBR Staff Writer Published 07 December 2017
Results from a phase 3 clinical trial evaluating Novartis' Kisqali (ribociclib) in premenopausal women with HR+/HER2- advanced/metastatic breast cancer demonstrated a significant treatment benefit.
The trial, dubbed MONALEESA-7, saw Kisqali, a CDK4/6 inhibitor, combined with an aromatase inhibitor or tamoxifen and goserelin as initial endocrine-based therapy pitted against endocrine therapy and goserelin alone.
It was held in more than 670 women with premenopausal women having HR+/HER2- advanced breast cancer and who are in the age group of 23-58 years.
According to Novartis, the Kisqali combination recorded a median PFS of 23.8 months, which is significantly higher than the progression-free survival (PFS) of 13.0 months for tamoxifen or an aromatase inhibitor plus goserelin.
Further, premenopausal women who were subjected to the Kisqali combination therapy had a response as early as eight weeks which was shown by separation of the PFS curves as against endocrine therapy alone.
Novartis revealed that there were no new safety signals noted in the MONALEESA-7 trial with adverse events generally consistent with those recorded in MONALEESA-2 trial.
Novartis Oncology global drug development head Samit Hirawat said: "We are pleased to see Kisqali combination therapy provide strong efficacy and prolonged quality of life with pain reduction in younger women, and look forward to working with health authorities to bring a new treatment option to premenopausal or perimenopausal women.
"Research in premenopausal advanced breast cancer is extremely limited as these women traditionally have been excluded from clinical trials or reduced to a subgroup in trials designed for their postmenopausal counterparts. We designed the robust MONALEESA clinical trial program to be inclusive of all women and men with HR+/HER2- advanced breast cancer."
A selective cyclin-dependent kinase inhibitor, Kisqali belongs to a class of drugs that help slow the growth of cancer cells by blocking cyclin-dependent kinase 4 and 6 (CDK4/6) proteins.
When over-activated, the two proteins can help cancer cells to multiply and divide rapidly. By targeting CDK4/6 with improved precision, cancer cells do not continue to multiply uncontrollably as per Novartis.
Kisqali in combination with an aromatase inhibitor was approved in Europe as a first-line treatment in postmenopausal women with (HR+/HER2-) locally advanced or metastatic breast cancer.
The same combination was approved in the US as an initial endocrine-based therapy for treating metastatic breast cancer.
---
Image: Novartis' Kisqali (ribociclib) 600mg tablets. Photo: courtesy of Novartis.
https://www.captis.com/wp-content/uploads/2017/12/Kisquali2.jpg
157
251
CAPTIS
https://www.captis.com/wp-content/uploads/2016/11/logo_transp_top_final.png
CAPTIS
2017-12-06 21:21:00
2017-12-08 04:18:54
Novartis' Kisqali improves PFS in younger women with advanced breast cancer