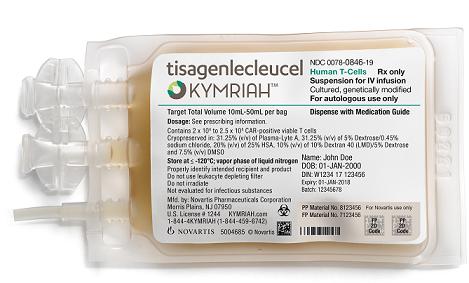 This article was originally published
here
PBR Staff Writer Published 18 January 2018
Novartis' CAR-T cell therapy Kymriah (tisagenlecleucel) has been granted fast-tracked reviews in the US and Europe for the treatment of relapsed or refractory (r/r) diffuse large B-cell lymphoma (DLBCL).
Kymriah will be assessed under a priority review by the US Food and Drug Administration (FDA) for the treatment of adult patients with DLBCL who are ineligible for or relapse after autologous stem cell transplant (ASCT).
In Europe, the cell therapy will be reviewed under an accelerated assessment by the European Medicines Agency (EMA) for the treatment of adult patients with r/r DLBCL and also for the treatment of children and young adults with r/r B-cell acute lymphoblastic leukemia (ALL).
For r/r DLBCL, Kymriah will be reviewed for patients who are ineligible for ASCT.
The regulatory applications of Kymriah for the indications are based on the findings of its global clinical trial program in children and young adults with r/r B-cell ALL and adult patients with r/r DLBCL.
The company demonstrated both efficacy and safety of Kymriah across its studies before submitting the applications to the two drug regulators.
The findings from the phase II JULIET trial served as the basis for Novartis' application for Kymriah for treating adult patients with r/r DLCBL.
On the other hand, the cell therapy is backed by the results of the phase II ELIANA study for the treatment of children and young adults with r/r B-cell ALL.
Novartis oncology global drug development head Samit Hirawat said: "The Priority Review designation and accelerated assessment signal that the FDA and EMA have recognized the potential of Kymriah to provide a much-needed therapeutic option for these patients with relapsed or refractory B-cell ALL and DLBCL.
"We are now focused on working with these regulatory agencies to bring this potentially transformative therapy to more patients."
Kymriah is an immunocellular therapy that utilizes a patient's own T cells to fight cancer. The one-time treatment makes use of the 4-1BB costimulatory domain in its chimeric antigen receptor to improve cellular growth and persistence.
In August 2017, Kymriah was approved by the FDA for the treatment of patients up to 25 years of age with B-cell precursor ALL, that is refractory or in second or later relapse.
---
Image: Kymriah Product Shot. Photo: courtesy of Novartis AG.
https://www.captis.com/wp-content/uploads/2018/01/novartis-Kymriah.jpg
283
469
CAPTIS
https://www.captis.com/wp-content/uploads/2016/11/logo_transp_top_final.png
CAPTIS
2018-01-17 21:05:00
2018-01-22 00:56:18
Novartis' Kymriah nabs speedy reviews in US, Europe for lymphoma treatment