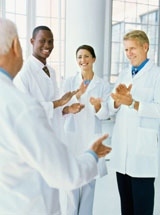 This article was originally published
here
August 22, 2013
"New Rules" With Modern Hiring Practices
By Angela Rose for BioSpace.com
Hiring new employees to fill biopharma positions can be a complicated task. Not only must employers worry about advertising their job openings in the best places to attract the highest quality candidates, but they must also walk a fine line between gathering enough and too much information on each applicant. Ask the wrong questions and you may find yourself on the wrong end of a lawsuit or facing an Equal Employment Opportunity Commission violation. Fail to ask the right questions and you may have to defend against a negligent hiring lawsuit. What's an employer to do? Start by staying on top of these new rules pertaining to modern hiring practices.
Job Postings
You already know that you must avoid wording within your job posting that excludes groups of candidates protected by federal, state or local laws. This includes discriminating against potential employees on the basis of race, sex, religion, disability and age. What you may not know is that some states have recently enacted protections for new groups—including the unemployed.
According to the Bureau of Labor Statistics, there were 11.5 million unemployed individuals in the U.S. in July. The long-term unemployed numbered 4.2 million, and according to several media accounts, employers tend to discriminate against them. Depending on your location, new laws may prohibit this, so educate yourself on current regulations before you include "currently employed" in the list of qualifications for available biopharma jobs.
Applications
Responsible biopharma employers consider the safety of their current employees when hiring new workers. Negligent hiring lawsuits, often arising from workplace violence incidents or accidents that pre-employment screening could have prevented, can devastate your organization's finances and reputation. Employers have traditionally used job applications to ask candidates about arrests and convictions in an attempt to eliminate unsavory characters. In some locations, this is no longer legal.
Several states and multiple cities have enacted new laws prohibiting employers from soliciting criminal background information on job applications. The EEOC advises against using such information when making hiring decisions because the use of arrest or conviction records could unfairly impact a protected group and lead to a lawsuit. When necessary, inquiries regarding convictions should have some bearing on the job duties a candidate will perform.
Informal Information Gathering
Internet and social media searches can yield more information on a biopharma job candidate than employers ever had access to in the past. You can use these tools to verify the credentials of applicants as well as get a sense of how they represent themselves in their personal lives. But because you may also find pictures, posts, tweets and other statements that reveal a candidate's race, age, religion or medical condition, accessing this information on your own can leave you vulnerable to discrimination lawsuits.
To circumvent this issue, some employers require job candidates to allow them to log onto their personal social media sites. However, several states have enacted laws that prohibit employers from doing so. Similar legislation is pending in most states.
Pre-Employment Background Checks
Most companies use pre-employment screening companies to conduct formal background checks on job candidates. For a fee, a third-party company will verify applicant credentials and job history, pull a credit report, and check criminal records. Most employers wait to order a background check until they've made a conditional offer of employment.
As you already know, under the Fair Credit Reporting Act, you have several notice obligations when running background checks. What you may not realize is that as of January 1, you are required to issue the Consumer Financial Protection Bureau's revised summary of rights to your job candidates. Failure to do so could lead to penalties.
Attract the best candidates with Biospace Job Postings. Post a Job in minutes and find top life science candidates.
About the Author
Angela Rose researches and writes about job search strategy, career management, hiring trends and workplace issues for BioSpace.com.
Related Biotech Employer/Recruitment Articles
* 5 Keys to Capturing Top Talent
* Employment Offers Candidates Can't Refuse
* Recruiting Analytics: How Do You Measure Up?
https://www.captis.com/wp-content/uploads/2013/08/enewsletters.biospace.comteam-160-445518f278f65062acae2bebb20d7e65de24073a.jpg
215
160
CAPTIS
https://www.captis.com/wp-content/uploads/2016/11/logo_transp_top_final.png
CAPTIS
2013-08-21 16:00:00
2017-03-22 17:01:39
New Rules Spur Changes in Biopharma Recruiting