This article was originally published
here

May 11, 2015
By Riley McDermid, BioSpace.com Breaking News Sr. Editor
The entire region of Pharm Country, which encompasses New York, New Jersey, Pennsylvania, Connecticut and Rhode Island, is seeing massive gains as biotech's rally continues, and no one is experiencing that more that companies hiring in the area.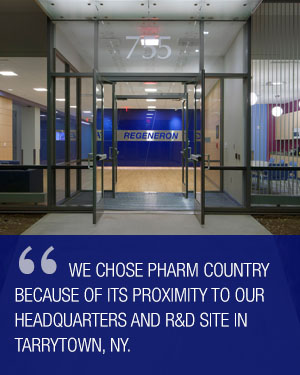 "We chose Pharm Country because of its proximity to our headquarters and R&D site in Tarrytown, NY," said Caroline Morrison, a human resources coordinator at Regeneron Pharmaceuticals, Inc. (REGN).
That's no surprise to local biotech participants, since New York, too, has found rapid growth amid biotech's boom, Nathan Tinker, executive director for NewYorkBIO, told BioSpace (DHX).
"New York has organically developed a number of bioscience clusters around the state, notably in and around New York City/Westchester County and in Buffalo/Rochester. The state is perpetually among the top two or three in the nation in terms of drawing National Institutes of Health (NIH) funding, and for two years running, New York has been named the Best Place to Find a Bioscience Job," he said.
To capitalize on all that momentum, BioSpace's Spring Pharm Country Talent Connect will be held at the Bridgewater Marriott in Bridgewater, Conn., on Monday, May 18, 2015, from 4 p.m. to 7 p.m.
Job seekers or life science professionals who want to mingle and network will be able to network with other life science professionals and have on-site in-depth private interviews with employers like Regeneron and inVentiv Health, both of which have multiple job offerings on tap at Talent Connect. Candidates looking to attend must pre-register and submit their resumes for pre-screening in order to be approved for one-on-one 15-minute interviews.
The event's location was definitely a plus for Regeneron's recruitment team, said Morrison. Regeneron will be hiring for a Research Associate I/II, Bioassays (3500BR); Research Associate – Pain, Addiction and Neurology (3665BR); Research Associate II, Biomolecular HTS (3699); Research Associate – Pulmonary Fibrosis (3714BR); and a Scientist/Staff Scientist-Clinic PK / Immunogenicity/ Biomarker (3606BR).
Amanda Hohman, specialty clinical manager for inVentiv Health, said they, too, are looking for a broad range of employees across a wide swath of the region.
"We currently have 51 openings in New Jersey and over 600 nationwide," said Hohman. inVentiv will be recruiting for a Pharmaceutical Sales Manager, Pharmaceutical Sales Representative, Sales Training Manager, Sales Trainer, Clinical Nurse Educator, Certified Diabetes Educator, Incentive Compensation Admin/Manager, Human Resources Manager, Clients Services Manager, Staff Accountant, Call Center Specialist and for the Help Desk.
There's no question that the states that comprise Pharm Country are chock-a-block with thriving life sciences and biotech companies and resources.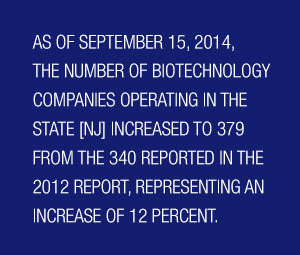 A September 2014 report by BioNJ found that The Bloustein School estimates annual expenditures of $30.1 billion by the New Jersey life sciences industry. As of September 15, 2014, the number of biotechnology companies operating in the State increased to 379 from the 340 reported in the 2012 report, representing an increase of 12 percent. The life sciences industry directly employs 66,451 people in New Jersey, and indirectly supports 146,105 additional jobs through its total expenditures for a total of 212,556 jobs.
"A survey conducted by Ernst and Young found that despite the headwinds of recent years, New Jersey's biotech companies overwhelmingly planned to hire in 2014," said the organization.
"New Jersey's life sciences sector, as indicated by the Bloustein School, not only positively impacts the state's economy, it also has an outsized impact on the national economy despite accounting for only 2.8 percent of the nation's total employment," it said. "The overall size of its life sciences workforce, as well as the trends and figures summarized in this study demonstrate New Jersey's strong capacity in the high-paying life sciences industry."
In neighboring New York, there are 74,873 people employed by biotech and life sciences, with an additional employment impact of 179,472. With an annual wage of $73,853, it's no wonder that so many people want to work in the area, said Tinker.
"We have companies including Regeneron, Pfizer Inc. (PFE), Ophthotech, Eli Lilly and Company (LLY), Roche (RHHBY), Acorda Therapeutics (ACOR) and Albany Molecular Research (AMRI)," he said. "As well as initiatives and projects like the Alexandria Center for Life Science's first large-scale, commercial bioscience facility in New York; the New York Genome Center; the $150 million New York Life Science Fund; Excell Partners, an upstate-focused start-up fund partially supported by New York State funding; and StartUp NY, an economic development initiative that offers 10 years/No taxes to qualified early stage companies."
Pennsylvania, too, remains tempting. A recent poll conducted by BioSpace asked readers if they think Pharm Country will do what it takes to keep biotech jobs in the area, and the answer was a resounding yes, with 69 percent of the 307 respondents saying they believe that Pennsylvania officials will continue to offer tax breaks and other labor benefits to keep biotech booming in the region.
That confidence came as no surprise to Stephen S. Tang, a professor and president and chief executive officer at University City Science Center, a local hub that offers lab space, office space and support services in Philadelphia for entrepreneurs, start-ups and established companies.
"The Greater Philadelphia region is a fertile ground for ideas, technologies and talent. We've historically had two great economic strengths in terms of technology commercialization: The first is academia, where we are consistently ranked among the top research hubs in the nation," Tang told BioSpace. "The second is a large, mature and established industry, including a high concentration of large pharmaceutical companies and an extensive network of contract research organizations.
https://www.captis.com/wp-content/uploads/2015/05/enewsletters.biospace.combiospace-news-bioscience-491d6d9f0c4a9fa2ee8d908d3e827a3e87dbaed0.jpg
384
815
CAPTIS
https://www.captis.com/wp-content/uploads/2016/11/logo_transp_top_final.png
CAPTIS
2015-05-13 16:00:00
2017-03-22 17:47:53
New Networking Opportunities at Talent Connect, Over 600 Bioscience Jobs Available Now