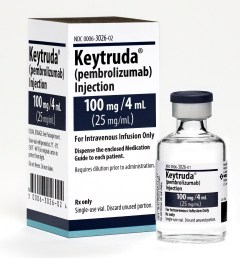 This article was originally published
here
PBR Staff Writer Published 17 January 2018
Merck's Keytruda (pembrolizumab) in combination with pemetrexed (Alimta) plus platinum chemotherapy has significantly improved overall survival (OS) and progression-free survival (PFS) of certain type of lung cancer patients in a phase 3 trial.
Both OS and PFS were defined to be the dual primary endpoints of the pivotal late-stage trial dubbed KEYNOTE-189.
The trial assessed the combination of Keytruda, Lilly's pemetrexed and platinum chemotherapy made up of cisplatin or carboplatin as a first-line treatment of patients with metastatic non-squamous non-small cell lung cancer (NSCLC).
The Keytruda regimen was evaluated in comparison to pemetrexed and cisplatin or carboplatin alone in 614 NSCLC patients, regardless of PD-L1 expression.
Merck said that the safety profile of Keytruda in the combination was on par with previous observations.
Merck Research Laboratories president Roger Perlmutter said: "KEYNOTE-189 showed significant improvement in overall survival and progression-free survival for patients receiving KEYTRUDA in the first-line setting in combination with traditional chemotherapy, compared with those receiving chemotherapy alone."
Merck plans to present the KEYNOTE-189 results at an upcoming medical meeting and also submit them to regulatory authorities.
According to Merck, Keytruda, to be injected intravenously, improves the immune system's ability in identifying and fighting tumor cells.
The anti-PD-1 therapy is a humanized monoclonal antibody which inhibits the interaction between PD-1 and its ligands, PD-L1 and PD-L2. As a result, Keytruda therapy activates T lymphocytes which may affect tumor cells and also healthy cells.
Keytruda has been approved in the US and Europe for different forms of cancers.
Its approvals include its indication in the US as a single agent for the first-line treatment of certain type of NSCLC patients, whose tumors have high PD-L1 expression.
In Europe, Merck had withdrawn an application in October 2017, seeking the approval Keytruda in combination with pemetrexed and carboplatin (pem/carbo) as a first-line treatment for NSCLC.
---
Image: Merck's Keytruda 100mg injection. Photo: courtesy of Merck Sharp & Dohme Corp., a subsidiary of Merck & Co., Inc.
https://www.captis.com/wp-content/uploads/2018/01/Keytruda20carcinoma.jpg
258
240
CAPTIS
https://www.captis.com/wp-content/uploads/2016/11/logo_transp_top_final.png
CAPTIS
2018-01-16 21:05:00
2018-01-22 00:56:05
Merck's Keytruda regimen succeeds in phase 3 NSCLC trial