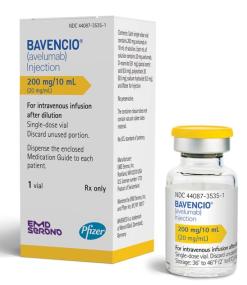 This article was originally published
here
PBR Staff Writer Published 24 March 2017
Merck's EMD Serono and Pfizer have secured approval from the US Food and Drug Administration (FDA) for Bavencio (avelumab) injection 20 mg/mL to treat metastatic Merkel cell carcinoma (mMCC).
Bavencio, which is developed for intravenous use, has been approved to treat adults and pediatric patients aged 12 years and older with mMCC.
Bavencio is a human programmed death ligand-1 (PD-L1) blocking antibody, which claimed to be the first FDA-approved therapy for patients with mMCC.
According to the company, the approval has been granted under accelerated approval based on tumor response and duration of response. It is not yet approved in any market outside the US.
Bavencio's efficacy and safety was showed in Javelin Merkel 200 trial, which is an open-label, single-arm and multi-center study carried out in 88 patients with histologically confirmed metastatic MCC.
Avelumab's international clinical development called Javelin included about 30 clinical programs, including nine phase III trials and around 4,000 patients across more than 15 tumor types.
Last October, the alliance secured approval from the European Medicines Agency for avelumab for the proposed indication of metastatic MCC.
Merck executive board member and healthcare CEO Belén Garijo said: "At the heart of this FDA approval is our drive to make a meaningful difference for patients with hard-to-treat cancers like metastatic Merkel cell carcinoma.
"Bavencio's journey has included years of hard work – from the scientists who discovered this molecule in our labs, to our alliance with Pfizer and to the study participants and investigators worldwide."
Pfizer Innovative Health group president Albert Bourla said: "This approval demonstrates the power of collaboration to accelerate meaningful new choices for cancer patients."
---
Image: Bavencio is the first FDA-approved immunotherapy for metastatic Merkel cell carcinoma. Photo: courtesy of PRNewswire / EMD Serono, Inc.
https://www.captis.com/wp-content/uploads/2017/03/image.digitalinsightresearch.inBavencioPfizer-2ac63443d50fe68860df31fb8bd687c1f200b58d.jpg
285
247
CAPTIS
https://www.captis.com/wp-content/uploads/2016/11/logo_transp_top_final.png
CAPTIS
2017-03-23 22:29:00
2017-03-24 14:44:25
Merck, Pfizer get FDA nod for Bavencio to treat metastatic Merkel cell carcinoma