This article was originally published
here

March 29, 2016
By Angela Rose for BioSpace.com
California may be home to 300,000 life science professionals—with 63,907 working in the Bay Area alone —but local employers say they're in need of more to staff the region's 2,848 life science companies. Many in the Biotech Bay hotbed of San Francisco and Northern California are planning to use BioSpace (DHX)'s spring Biotech Bay Talent Connect event to enhance their recruitment efforts.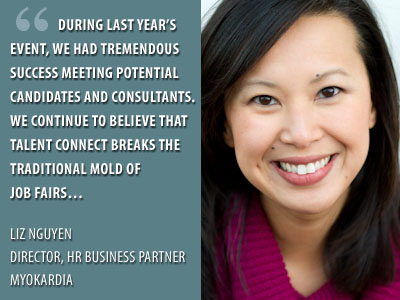 "The life science job market remains competitive for top talent," Liz Nguyen, director and HR business partner at MyoKardia, a pharmaceutical company focused on cardiovascular medicine, recently told BioSpace. "This requires employers to be visible to potential job seekers by showcasing not only available opportunities but the organization's mission, culture and values. We pursue talent via multiple channels: social media, job fairs and other networking events."
Jeannine Tinsley, talent acquisition consultant at Aimmune Therapeutics (AIMT), a clinical-stage biopharmaceutical company, agrees that the Biotech Bay hotbed is a job seekers' market. "There is clearly a continuous war for top talent in the San Francisco Bay Area," she says. "The job market is competitive with candidates often receiving multiple offers after only a few weeks of job searching. Clinical and regulatory jobs are some of the most difficult to fill as there are more open jobs than qualified people to fill them."
Connecting with qualified candidates is one of the primary reasons employers like MyoKardia, Aimmune Therapeutics and Bayer (BAY) are attending BioSpace's sold-out event. "Talent Connect is an opportunity for MyoKardia to meet and network with individuals in the life sciences industry," says Nguyen. "During last year's event, we had tremendous success meeting potential candidates and consultants. We continue to believe that Talent Connect breaks the traditional mold of job fairs, enabling participants to focus their time on what's important: connecting people to great opportunities."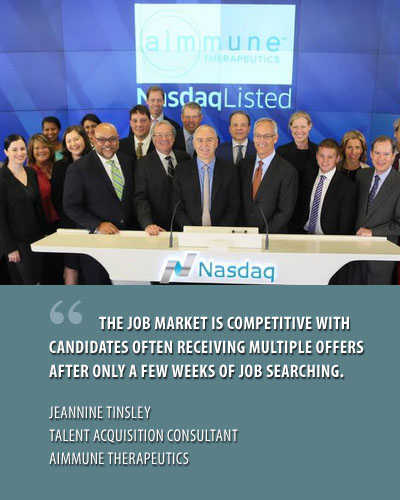 Rachelle Sepich, head of U.S. talent operations at Bayer, an international pharmaceutical and consumer health company, agrees. "Talent Connect will provide Bayer with the opportunity to connect with job seekers and life science professionals locally," she recently told BioSpace. "As a pharmaceutical company with U.S. representation in the Biotech Bay, we believe it is critical to maintain our presence, strengthen awareness for our job opportunities and reinforce our employer brand."
Job seekers who want to meet and network with representatives from Aimmune Therapeutics, Bayer, Bulletproof Documentation, Inc., CMC Biologics, Commissioning Agents, Inc., CSols, Inc, DiCE Molecules Corporation, Dynavax Technologies (DVAX), Jazz Pharmaceuticals, Inc. (JAZZ), Kelly Scientific Resources, Merck & Co., Inc. (MRK), MyoKardia, Nevro Corp, Sangamo BioSciences, Inc. (SGMO), Veracyte, Inc. and other Biotech Bay life sciences employers can do so at the South San Francisco Conference Center on April 6 from 4 p.m. to 7 p.m. Each organization will be conducting on-site in-depth private interviews with candidates as they recruit for multiple job openings. Pre-registration for the event is required along with submission of a resume for pre-screening.
Opportunities in the region are plentiful, and attendees with any level of experience should find a range of positions to interest them. "MyoKardia's patient-first commitment to research and our precision medicine platform continue to fuel growth," says Nguyen. "We are currently seeking innovative team members across most of our functions including quality, project management, drug discovery and research, clinical development and accounting. We seek out potential employees who in addition to being excellent scientists, clinicians, and/or business people are agile, creative, able to improvise, and excel working in a collaborative, cross-functional environment."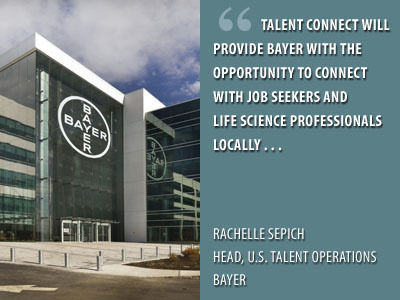 According to Sepich, "Bayer is actively recruiting in all regions across the U.S. for a wide range of opportunities including research and development, marketing and sales, quality assurance, engineering, manufacturing, logistics and supply chain, information technology and procurement."
"Everyone at Aimmune is dedicated to addressing the urgent unmet need for treatments for food allergies, through our individual functions—be they scientific, medical, development, commercial, technical or operational—and our collaborative efforts," adds Tinsley. "We are currently seeking to fill some very important roles including a sr. director, new product planning and strategy, clinical research associates, an associate director, regulatory operations, sr. manager, accounting, manager, QC and stability and a communications and investor relations coordinator."
https://www.captis.com/wp-content/uploads/2016/03/enewsletters.biospace.combiospace-news-815x450-bay-14540b63724a25fad17e1bac06b8c424084c5171.jpg
450
815
CAPTIS
https://www.captis.com/wp-content/uploads/2016/11/logo_transp_top_final.png
CAPTIS
2016-03-29 16:00:00
2017-03-22 17:47:30
Job Seekers Gear Up for Biotech Bay's Largest Career Event