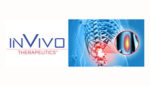 This article was originally published
here
InVivo Therapeutics (NSDQ:NVIV) said today it exchanged outstanding warrants, issued as part of a financing in 2014, for 2 million new shares of common stock.
The exchange is worth approximately $2.4 million, given InVivo's current share price of $1.20 as of 10:44 a.m. EDT.
InVivo said it negotiated individual exchange agreements with warrant holders, and that the exercise price and number of shares subject to the 2014 warrants were adjusted.
"We believe that these exchange agreements benefit our shareholders and the company by creating a substantially cleaner balance sheet for the company and removing a significant financial overhang. This puts us in a much stronger financial position as we work toward reopening enrollment in The Inspire Study and delivering on our mission for spinal cord injury patients," chair & CEO Mark Perrin said in a press release.
Last month, InVivo said it was temporarily suspending enrollment in the Inspire trial of its neuro-spinal scaffold after its most recent patient, implanted in June, passed away suddenly following hospital discharge.
The post InVivo pulls trigger on $2m warrant exchange appeared first on MassDevice.
https://www.captis.com/wp-content/uploads/2017/08/www.massdevice.cominvivo-therapeutics-small-f8901dd6b0d57292ccfaefa8824eba1b00589667.jpg
86
150
CAPTIS
https://www.captis.com/wp-content/uploads/2016/11/logo_transp_top_final.png
CAPTIS
2017-08-10 06:55:39
2017-08-14 05:27:46
InVivo pulls trigger on $2m warrant exchange