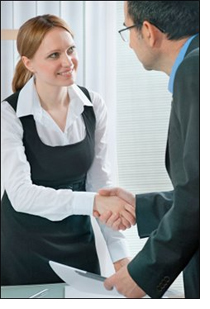 This article was originally published
here
Be Memorable in a Positive Way in Your Job Search
By Bob McIntosh, Career Trainer
I don't remember much, but when I do, I never forget. There are some jobseekers I remember because they leave a lasting impression, like one woman I had in my Behavioral Interviewing workshop whose story about motivating others was so compelling. Melissa is her name.
Then there's Mark who just got an Administrator position in healthcare. He thanked me for my help and told me he'd write an account of his job search and how LinkedIn was of great help.
Lisa landed a benefits job in human resources. Previously she was a manager, but she wanted out of that. She proved that stepping down is fine, just as long as you can still prove your value.
Armando I remember because he would always ping me with updates about his job search. He was always positive, never seemingly desperate, and sometimes he offered to help me. He still remains one of my favorite former customers, still someone I'll reach out to. The other day, in fact, I called to see if he needed a gift in the form of a very talented jobseeker.
Unfortunately there have been people who are a complete downer, but they're far and in between. Still I remember them because of the poor impression they made. Mike Downer would constantly e-mail me about how he wasn't going to make it. I would tell him he would if he networked and tried to be positive. He finally got a job. I won't hear from him unless he needs another job.
The four people I mention–yes they exist–who came across as positive and/or were willing to provide any help they could are the ones I would go out of my way to help; whereas the one that was always negative is someone I'd dread hearing from.
There's a pattern here. People want to go out of their way to help those who make a good impression. If you want to be memorable to people who can assist you in your job search, keep in mind the following:
1. Appearing positive, regardless of your internal struggles, attracts more people than if you're negative. Negativity drives people away. Take Mike Downer, for example.
2. Remind people of you by pinging them with e-mails and phone calls, but don't annoy them with constant contact. Offer to meet them for coffee if it's convenient for them.
3. Always follow up after you've met someone who might be of assistance. Every time you follow up ask if you can be of assistance to them. If you can reciprocate in any way, it's better than only asking for their help.
4. Know your stories. Expert on storytelling, Katharine Hansen @ A storied Career, touts the importance of stories, how memorable they are in life and in the job search.
5. Let people know about your successes. Had a great interview? Let people know. Finished a resume you're happy with? Let people know. Although your confidence may be low, announcing your achievements will make you and others feel great.
These are just a few positive things you can do to become memorable. Don't be a downer, regardless of your internal struggles. Most people understand that being out of work is painful, including yours truly; so don't make it the gist of your relationship with others. People like this are easy for me to remember, even if I can't remember big name actors like Chris….See, I forgot.
Read more biotech career tips. Find more biotech and pharma jobs by visiting the career center.
About the Author
Bob McIntosh, CPRW, is a career trainer at the Career Center of Lowell, where he leads more than 20 workshops on the career search. Bob is often the person jobseekers and staff go to for advice on the job search. As well, he critiques resumes and conducts mock interviews. One of his greatest accomplishments is starting a LinkedIn group, which is one of the largest of its kind in the state, and developing three in-high-demand workshops on LinkedIn. Bob's greatest pleasure is helping people find rewarding careers in a competitive job market. Please visit Bob's blog at www.thingscareerrelated.wordpress.com.
Check out the latest Career Insider eNewsletter – April 4, 2013.
Sign up for the free weekly Career Insider eNewsletter.
Related Articles
* 9 Networking Tips for Job Search Success
* 7 Tips to Better Networking
* How to Find the Right People to Network With
https://www.captis.com/wp-content/uploads/2013/04/enewsletters.biospace.comhand_shake-f5fa377e2bdc1b3d5038f382712a7e341a51e4b0.jpg
309
210
CAPTIS
https://www.captis.com/wp-content/uploads/2016/11/logo_transp_top_final.png
CAPTIS
2013-04-03 16:00:00
2017-03-22 17:48:20
How to Make a Positive, Long Lasting First Impression