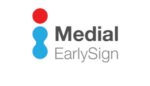 This article was originally published
here
Machine-learning healthcare developer Medial EarlySign said today it raised $30 million in a Series B round of financing to help support further development of the company's platforms.
Funding in the round was led by the aMoon Fund and joined by Horizons Ventures and Nir Kalkstein, who founded trading firm Final and helped co-found Medial EarlySign.
"All major players in the healthcare ecosystem, including payers, providers and large employers, are realizing the impact big data and focused analytics can have on their bottom lines, as well as on the well-being of their patients. Medial EarlySign is the perfect algorithm powerhouse to deliver that type of impact and save not only tremendous amounts of money, but also lives. We feel fortunate to be partnering with the world class team at Medial and look forward to contributing to the company's success," aMoon managing partner Dr. Yair Schindel said in a press release.
Israel-based Medial EarlySign is developing machine-learning based models to analyze data from electronic health records, including laboratory test results, demographics, medications and diagnostic codes. The company hopes to leverage the AI-based analytics to improve prediction and optimize care for patients.
"There is an incredible volume of meaningful routine healthcare data. Yet, while these data are electronically stored and available, they are still underutilized, and providers can glean much more actionable intelligence from it. This is where Medial EarlySign comes in. Our unparalleled expertise in these data and predictive health technology allows us to provide valuable insights and create improved actionable opportunities for early intervention, improved decision making, more effective care management, and physician and patient empowerment. This funding will allow us to further broaden our suite of solutions, and expand clinical research and global implementations of our clinically-supported technology. The insights we enable could bring added value to almost every interaction with the patient, with the potential to positively impact millions of lives," founder & CEO Ori Geva said in a prepared statement.
Medial EarlySign said it is engaged in ongoing studies with more than 20 million patients at 14 institutions globally, and that its systems are already seeing clinical use.
Last month, Medial EarlySign touted data from a study of its algorithm designed to identify diabetic patients who have the highest risk of developing renal dysfunction.
The post Healthcare AI dev Medial EarlySign raises $30m in Series B appeared first on MassDevice.
https://www.captis.com/wp-content/uploads/2018/03/medial-earlysign-small-150x86.jpg
86
150
CAPTIS
https://www.captis.com/wp-content/uploads/2016/11/logo_transp_top_final.png
CAPTIS
2018-03-06 10:46:41
2018-03-07 09:07:25
Healthcare AI dev Medial EarlySign raises $30m in Series B