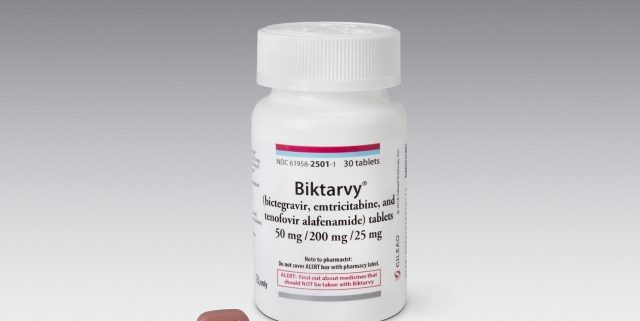 This article was originally published
here
PBR Staff Writer Published 08 February 2018
Gilead Sciences has secured approval from the US Food and Drug Administration (FDA) for Biktarvy, a once-daily single tablet regimen (STR) for the treatment of HIV-1 infection.
The approval for Biktarvy (bictegravir 50mg/emtricitabine 200mg/tenofovir alafenamide 25mg, BIC/FTC/TAF) supported by data from four ongoing phase 3 trials.
Biktarvy combines bictegravir, an integrase strand transfer inhibitor, with Descovy, a combo of emtricitabine and tenofovir alafenamide, which is a dual nucleoside reverse transcriptase inhibitor (NRTI).
The once-daily tablet has been approved for adult patients who were not subjected to any antiretroviral treatment in the past or for those who are virologically suppressed on an antiretroviral for three months or more.
The drug regimen met its main objective of non-inferiority at 48 weeks in all the four late-stage trials.
It demonstrated high efficacy, few interactions with other drugs and a high barrier to resistance through 48 weeks.
No patients taking the regimen of bictegravir and FTC/TAF developed treatment-emergent resistance, and the clinical data demonstrated that the regimen's antiviral efficacy, tolerability profile and limited drug interactions provide a new treatment option for a range of people living with HIV.
Gilead is holding further clinical trials of Biktarvy, which includes a dedicated trial in women, and also a trial in HIV-affected adolescents and children.
Gilead president and CEO John Milligan said: "Gilead is committed to improving care and simplifying therapy for people living with HIV. We continue to invest in research in next-generation treatments, including therapies that could potentially cure HIV patients.
"We are pleased to offer Biktarvy, our latest triple-therapy treatment, which brings together the potency of an integrase inhibitor with the most-prescribed dual-NRTI backbone in a once-daily single tablet regimen."
Gilead said that Biktarvy does not need testing for HLA-B*5701, comes with no food intake requirements, and with no baseline viral load or CD4 count restrictions.
---
Image: Biktarvy bottle and tablet. Photo: courtesy of Gilead Sciences, Inc.
https://www.captis.com/wp-content/uploads/2018/02/biktarvybottleandtablet.jpg
360
640
CAPTIS
https://www.captis.com/wp-content/uploads/2016/11/logo_transp_top_final.png
CAPTIS
2018-02-07 20:59:00
2018-02-08 13:12:22
Gilead's Biktarvy triple HIV drug secures FDA approval