This article was originally published
here

January 8, 2015
By Riley McDermid, BioSpace.com Breaking News Sr. Editor
Amanda Valentino, senior director of talent acquisition, at Genentech, sees a lot of resumes every day—and with 400 jobs currently open, she always has her eye out for new talent.
But how does she know which candidates are right for a powerhouse like Genentech, which saw booming growth in 2014 and is one of the hottest biotech companies out there right now? The answer all lies in the culture of the company—and how well a candidate might fit in and contribute, she said.
"We are always curious to know how a candidate's career interests fit with Genentech's mission," Valentino told BioSpace. "Being able to speak authentically about what attracts you to the company and mission is key to pursuing any role across the business. We also look for candidates who are collaborative and communicative, as both skills will help one to navigate the culture successfully."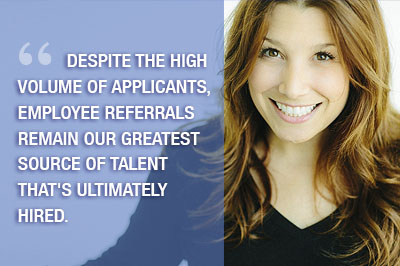 Genentech, a member of the Roche Group, has had a huge year in the headlines, especially after it snapped up a promising new cancer therapy, NLG919, from NewLink for $1 billion. The IDO pathway inhibitor is a whole new type of immunotherapy for the company and with that sort of change always comes opportunity, say human resources experts.
"Growth is definitely a theme in our sector and with growth comes more hiring," said Valentino. "This creates competition for top talent. We're used to competing for talent and feel we should constantly evolve our message about why Genentech is a great place to work."
For most large companies with broad mandates like Genentech, sometimes finding the very best people for the job comes down to making sure candidates know that there is an opening, that it is specialized and that they are wanted. "This includes developing candidate messaging specific to each function, evolving our recruitment brand campaigns, and engaging with candidates in social media on sites like glassdoor.com and LinkedIn," said Valentino.
Biotech saw one of its most booming years in the last four quarters, with record numbers of biotech companies going public, and the NASDAQ biotech sector index up a white-hot 33 percent year-over-years. All this growth in the capital markets in 2014 didn't seem to push up the number of applicants, however, though the company continues to hire most often from employee referrals.
"On average we receive more than 200,000 applications annually, and 2014 was no exception," she said. "Despite the high volume of applicants, employee referrals remain our greatest source of talent that's ultimately hired."
Valentino said that on her end, Genentech saw a steady flow of candidates, and continues to hire in almost every sector of its business, including its C-level suite right on down to research and development. Clinical scientists and regulatory staff also remain much in demand for most biotech companies.
"We are fortunate at Genentech to have a robust pipeline which translates to hiring across our entire company including R&D, manufacturing, sales, marketing as well as corporate functions like HR, legal and IT," said Valentino. "We currently have over 400 positions open on careers.gene.com."
Check out the latest Career Insider eNewsletter – January 8, 2015.
Sign up for the free weekly Career Insider eNewsletter.
https://www.captis.com/wp-content/uploads/2015/01/enewsletters.biospace.combiospace-news-815x384-gen-aae8561679b725db450074de971862636835a40f.jpg
384
815
CAPTIS
https://www.captis.com/wp-content/uploads/2016/11/logo_transp_top_final.png
CAPTIS
2015-01-21 15:00:00
2017-03-22 17:47:58
Genentech Reveals Their Greatest Source of Who They Hire