This article was originally published
here

June 20, 2016
By Angela Rose for BioSpace.com
A common worry among students at higher education institutions—type of school and choice of major aside—is the difficulty of securing employment after graduation. Data from the Bureau of Labor Statistics (BLS) indicates their concerns are not unfounded. While the total U.S. unemployment rate was 5 percent in April, it was 8.8 percent among adults ages 20 to 24. Only teenagers had a harder time securing employment.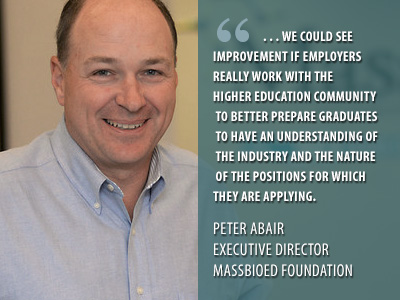 Of course, this doesn't mean employers aren't interested in new college graduates. In fact, according to the National Association of Colleges and Employers (NACE), businesses across the nation expect to hire 5.2 percent more new graduates from the Class of 2016 than they hired from the Class of 2015.
In Massachusetts, the news is even better. Life science hiring in the state is "very robust and definitely in a prolonged expansion cycle," Peter Abair, MassBioEd's executive director, recently told BioSpace (DHX). "In the most recent 12 months, we've had close to 38 percent growth in terms of job listings. And we know there is a definite connection between job listings and actual hires."
When reviewing total life science job postings from January through March of 2016, MassBioEd found that 26 percent could be classified as entry-level, or requiring between zero and two years of experience. Among the top 20 positions, there were significant opportunities for graduates with bachelor's degrees. There were also plenty of jobs with an associate degree listed as the minimum educational requirement.
Top 20 Industry Job Listings
OCCUPATION

TOTAL

AS %

BS %

GRAD %

EMPLOYER EXAMPLE

Medical Scientist

120

0%

84%

16%

Biogen

Medical Laboratory Technician

51

52%

48%

0%

CompHealth

Sales Representative

51

8%

92%

0%

Cole-Parmer Instrument

Biologist

46

0%

74%

26%

Spectraforce Tech

Clin. Research Coord./Mgr.

37

0 %

97%

3%

Mass. General Hospital

Medical Laboratory Technologist

32

17%

71%

13%

Courtagen Life Sci

Bookeeper/Accounting Clerk

28

92 %

8%

0%

Harvard

Quality Control Analyst

23

9%

91%

0%

Arcadia Healthcare Solutions

Software Developer/Engineer

22

8%

88%

5%

Foundation Medicine

Biostatistician

22

0%

46%

54%

Boston Children's Hospital

Biological Technician

21

6%

94 %

0%

Dana-Farber Cancer Institute

Office/Administrative Assistant

20

54 %

44%

2 %

Broad Institute

Customer Service Representative

20

77%

23%

0%

GE Healthcare

Chemist

18

0%

85%

15%

Amgen

Mfg./Prod. Technician

15

93%

7%

0%

Avedro

Retail Sales

14

72%

28%

0%

Hospital gift shops

Medical Director

12

16%

46%

38%

Curis

Chemical/Process Engineer

12

0%

100%

0%

Pfizer

Phlebotomist

12

97%

3%

0%

South Shore Hospital

Nursing Assistant

11

99%

1%

0%

Cambridge Health Alliance
Conditions in other life science hotbeds should be similar. "While Massachusetts and California tend to outperform the rest of the country in terms of hiring in the biopharma space especially, we're starting to see—in the most recent two years—pretty strong growth in job listings and available positions in most every life science cluster," says Abair. "There's definitely been a rebound of the industry."
We recently sat down with Abair to get his take on new graduate employment and what employers and educational institutions can do to better serve these new professionals. The answer: work together.
BioSpace: We've heard from many job seekers that it's very tough to find that first job when you're a new grad. Why do you think this is?
Abair: We have a skills advisory group that consists of industry professionals. What they see in candidates at the entry level is sometimes an inability to demonstrate skills. For example, you may have a four-year graduate who has spent some time in the lab but isn't confident in demonstrating those lab skills and how they relate to a real job in the industry. So that's an obstacle for some. At the two-year level, we see graduates with good ability to demonstrate technical skills but an inability to show underlying critical thinking and an understanding of the science itself.
BioSpace: In your opinion, what can life science employers do to improve their hiring of new graduates?
Abair: I think in the years ahead we could see improvement if employers really work with the higher education community to better prepare graduates to have an understanding of the industry and the nature of the positions for which they are applying.
Where the industry tends to do better is where they have relationships with particular institutions. There needs to be broader conversation between industry and all institutions—especially those in the local neighborhood so to speak. Employers need to try to understand the programs that are out there that are geared towards the industry and that are specifically about producing employees for the industry.
A lot of community colleges and the state university system do these programs very well. There are institutions that have made them part of their focus. They embrace the concept of providing employees for the industry and helping their graduates get to that level. A great example is Worcester Polytechnic Institute. They've dramatically changed their engineering program over the years to be very much focused on bio manufacturing. There are also others who have made a substantial investment in focusing their programs to train graduates who understand the industry and can hit the ground running.
The industry needs to shine a light on institutions that do a great job of this so the rest of the higher education community will be inclined to take a look at their best practices. Once that's done, it's really on the industry itself to make a point of hiring from those institutions. It's sort of a classic invisible hand of supply and demand. Employers are going to go where the supply is strongest to get the candidates they need and that will hopefully influence other institutions to produce candidates of the same quality.
BioSpace: You held an event on May 24th that addresses this topic. What did you hope to accomplish?
Abair: The Massachusetts Conference on Biotechnology Job Trends was an opportunity for industry, higher education and policy makers to come together and react to the information presented in our initial Biotechnology Job Demand Digest. We talked about the best practices that are out there, such as Massachusetts' internship challenge program and new apprenticeship program for high school students. We learned more about the skills new graduate applicants need to demonstrate in order to get jobs. And we wanted to have higher education tell the industry what their graduates can actually do and get their reactions to that.
Both the industry and higher education need to hear from each other, and our event was an opportunity for them to have that conversation as well as discuss the information we presented. We'd like to make this an annual event so we can check in and see who is doing well, what they're doing, and how other employers and institutions can replicate it.
Check out the latest Inside Recruiter eNewsletter – June 20, 2016.
Sign up for the free Inside Recruiter eNewsletter.
https://www.captis.com/wp-content/uploads/2016/06/enewsletters.biospace.combiospace-news-815x400-new-3d745c1417ea5830b7ba6d0d4899c043f1a50ba6.jpg
400
815
CAPTIS
https://www.captis.com/wp-content/uploads/2016/11/logo_transp_top_final.png
CAPTIS
2016-06-12 16:00:00
2017-03-22 17:00:46
Future Fit: What It Takes to Make New Graduates Employable