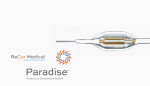 This article was originally published
here
ReCor Medical said this week that the FDA approved a new pivotal study of the company's Paradise ultrasound denervation system for the treatment of hypertension.
The Palo Alto, Calif.-based company reported that its trial, Radiance-II, will be a randomized, sham-controlled study in patients with moderate hypertension. The study is designed to demonstrate the Paradise system's safety and ability to lower blood pressure.
ReCor plans to start enrolling patients for Radiance-II in October.
"We have had a very constructive dialog with the FDA during the past 9 months to craft what we believe is a strong study to develop a robust set of clinical data to support the future FDA review for PMA approval," Leslie Coleman, VP of regulatory & medical affairs, said in prepared remarks. "At the time of PMA submission we plan to have 4 independently-powered, blinded, sham-controlled, randomized studies of the Paradise System in patients with different stages of hypertension – our Solo, Trio, Require, and Radiance-II studies – approaching a total of nearly 500 subjects, with outcomes as long as 3 years."
"Our steering committee and medical advisors have been instrumental in the design of the global Radiance clinical program – including the Radiance-II pivotal study – for the US, Europe, Japan and Korea," Helen Reeve-Stoffer, VP of clinical affairs, added. "Given the recent positive Solo results, and subsequently the numerous review articles in medical journals, we recognize the potential impact the Paradise System may have in the treatment of hypertension for millions of patients world-wide. Accordingly, ReCor is committed to conduct rigorous, randomized, controlled studies to demonstrate the safety and efficacy of the Paradise system to lower blood pressure, thus helping physicians to evaluate how, in whom, and when to use Paradise for the treatment of hypertension."
The post FDA approves ReCor Medical's pivotal ultrasound denervation study appeared first on MassDevice.
https://www.captis.com/wp-content/uploads/2018/07/recor-paradise-7x4-150x86.jpg
86
150
CAPTIS
https://www.captis.com/wp-content/uploads/2016/11/logo_transp_top_final.png
CAPTIS
2018-07-05 05:34:15
2018-07-08 16:35:46
FDA approves ReCor Medical's pivotal ultrasound denervation study