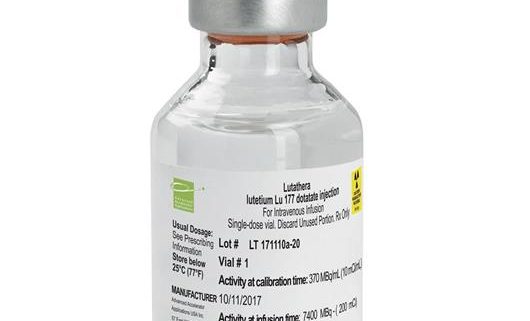 This article was originally published
here
PBR Staff Writer Published 29 January 2018
Advanced Accelerator Applications' radioactive drug Lutathera (lutetium Lu 177 dotatate) has been approved by the US Food and Drug Administration (FDA) for the treatment of gastroenteropancreatic neuroendocrine tumors (GEP-NETs).
GEP-NET is a form of cancer that affects the pancreas or gastrointestinal tract.
The approval is for adult patients with somatostatin receptor-positive GEP-NETs and it covers conditions like foregut, midgut, and hindgut neuroendocrine tumors.
Advanced Accelerator Applications is a France-based radiopharmaceutical company which was recently acquired by Swiss drugmaker Novartis for $3.9bn.
Lutathera's approval was driven by the findings of a phase 3 study dubbed NETTER-1 and also by a subset of efficacy and safety data from a single-arm, open-label trial in The Netherlands in more than 1,200 patients with somatostatin receptor positive tumors.
In NETTER-1, the drug had reduced the risk of disease progression or death by 79% in combination with best standard of care arm (octreotide LAR 30mg every four weeks).
The Lutathera combination with octreotide was compared to 60mg of octreotide LAR alone.
Advanced Accelerator Applications chairperson and president Susanne Schaffert said: "The approval of Lutathera marks an important achievement and an innovation greatly needed for the NET cancer community.
"For 30 years, Novartis has supported the NET community with the development of therapeutics in NET and carcinoid syndrome. I cannot think of a better way to commemorate the joining of two organizations and our future together as we advance new nuclear medicine therapeutics in NET as well as across other tumor types."
Considered to be rare tumors, NETs begin in the neuroendocrine cells of various organs like the gastrointestinal tract, pancreas and lung. While certain patients develop symptoms due to excessive hormones production by neuroendocrine tumor cells, some others stay clinically silent for years.
Lutathera works by binding to the somatostatin receptor in the cells. After the binding, the radioactive drug enters the cell, thereby enabling radiation to damage the tumor cells.
FDA Oncology Center of Excellence director Richard Pazdur said: "GEP-NETs are a rare group of cancers with limited treatment options after initial therapy fails to keep the cancer from growing.
"This approval provides another treatment choice for patients with these rare cancers. It also demonstrates how the FDA may consider data from therapies that are used in an expanded access program to support approval for a new treatment."
Pazdur is also the acting director of the Office of Hematology and Oncology Products in the FDA Center for Drug Evaluation and Research.
---
Image: Lutathera (lutetium Lu 177 dotatate). Photo: courtesy of Advanced Accelerator Applications/ GlobeNewswire, Inc.
https://www.captis.com/wp-content/uploads/2018/01/Lutathera.jpg
600
530
CAPTIS
https://www.captis.com/wp-content/uploads/2016/11/logo_transp_top_final.png
CAPTIS
2018-01-28 21:07:00
2018-01-29 02:34:40
FDA approves Advanced Accelerator's Lutathera for certain digestive tract cancers