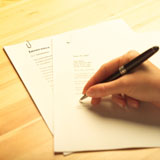 This article was originally published
here
Help employers find you! Check out all the jobs and post your resume.
Cold Calls are For the Birds: Send an Approach Letter First
By Bob McIntosh, Career Trainer
I remember reading a question on LinkedIn that went, "Any advice for jobseekers who have a hard time making phone calls?" Most of the respondents offered advice on how to make phone calls to prospective employers or networking contacts.
I wanted to offer a different solution for those of you who don't cherish the idea of making a cold call; don't make the call. At least not right away.
Some advised jobseekers to write a script before making the call. Others said to just suck it up and get over your fears—get outside your comfort zone. One said something I hadn't considered—make notes so you don't ramble on; stay focused. Lie to get past the gatekeeper, one suggested. One of the most humorous replies was to make the call or move back with your parents. Ouch.
Then I came across the answer I agreed with the most, which was to make a warm call, not a cold call. I was both relieved that someone agreed with me, as well as peeved that the person had stolen my answer.
The Warm Call: If you're wondering what a warm call is, it's making an introduction via e-mail or snail mail before placing the daunting call. In other words, warn the employer or potential networking contact. Dropping a name would be best, as it gives the person with whom you'd like to speak someone to go to who will wax poetically about your outstanding qualifications.
What I speak of is your standard approach letter. (See an article written for Quintessential Careers.com on what they call a Cold-Contact Prospecting Cover Letter.) Some call it a broadcast letter, others call it a networking letter. There is more to an approach letter than simply sending an e-mail telling the person on the other end that you'd like to get together with her to meet for a short meeting, a networking meeting it is sometimes called.
With the approach letter, first you'll want to research the company so you can write intelligently about why you'd like to meet. What makes a meeting with the person worth your while? I tell my jobseekers to boost the person's ego. Selling the company to the employer will raise her eyebrows and put a smile on her face. It also shows you took the time to visit the company's website, read articles in the newspaper, and or conduct extensive research on the industry.
For example, I would be flattered to receive an e-mail that begins with: "Some people don't know the benefits a One-Stop career center offers today's jobseekers, some of which are workshops on the resume writing, interview techniques, and LinkedIn, among many others." No, I wouldn't consider this a con job. Facts about the kinds of workshops that jobseekers would find valuable would keep my attention and make me want to continue reading.
You wouldn't want to go through the trouble of writing an approach letter without throwing in some kudos about yourself. What would make the recipient want to meet with you if you don't have the goods, e.g., experience and skills needed to succeed in a particular field? It would be naïve for the recipient to believe you're writing to simply meet with her over coffee. Your goal is to get one step further in your quest for a job.
What follows could be a networking meeting or maybe good timing on your part. You may have successfully penetrated the Hidden Job Market with your proactive approach—as in there may actually be a job that the company's trying to fill, unbeknownst to other jobseekers searching the Internet for advertised positions. This is precisely why you don't want to simply send an e-mail without laying out your skills that make you ideal for a possible job in the company.
The only thing left to do is picking up the phone and asking the recipient if she received your letter. Even if talking on the phone terrifies the heck out of you, at least you have gotten in your message without having to deliver it cold. You're compelling writing has wooed the recipient into wanting to know more about you.
For those of you who are terrified of talking on the phone to prospective networkers, or employers, you don't have to go home to "Mommy"; you can send an approach letter, which is less demeaning than the alternative.
About the Author
Bob McIntosh, CPRW, is a career trainer at the Career Center of Lowell, where he leads more than 20 workshops on the career search. Bob is often the person jobseekers and staff go to for advice on the job search. As well, he critiques resumes and conducts mock interviews. One of his greatest accomplishments is starting a LinkedIn group, which is one of the largest of its kind in the state, and developing three in-high-demand workshops on LinkedIn. Bob's greatest pleasure is helping people find rewarding careers in a competitive job market. Please visit Bob's blog at www.thingscareerrelated.wordpress.com.
https://www.captis.com/wp-content/uploads/2013/04/enewsletters.biospace.comcover_letter_160-e47a02e53652119a1de54ff0fb30bfeea2d65d30.jpg
160
160
CAPTIS
https://www.captis.com/wp-content/uploads/2016/11/logo_transp_top_final.png
CAPTIS
2013-04-17 16:00:00
2017-03-22 17:16:23
Ditch the Cold Call, Send an Approach Letter First