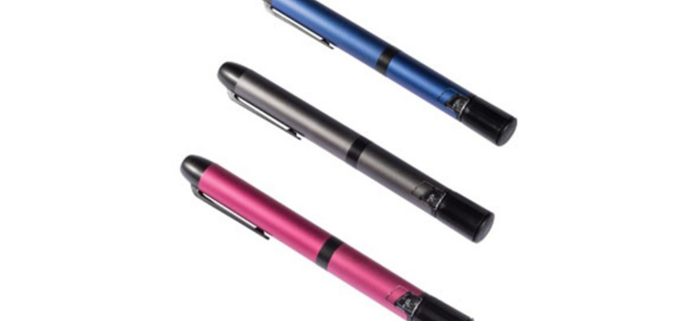 This article was originally published
here
7 medical devices combating the opioid crisis
Opioid-related deaths have become an epidemic in the US, garnering attention from the White House, the FDA and many other governmental bodies. From 2000 to 2014, nearly half a million Americans died from drug overdoses. In 2015, more than 50,000 people died from a drug overdoses, and 33,000 were opioid-related. Prescription overdoses continue to cause […]
Companion Medical launches smart insulin pen in U.S.
Companion Medical started selling its smart insulin pen in the U.S. today, according to the San Diego, Calif.-based company. The InPen system, which combines an insulin injector pen and a smartphone app, is compatible with Eli Lilly's (NYSE:LLY) Humalog and Novo Nordisk's (NYSE:NVO) Novolog fast-acting insulin. Get the full story at our sister site, Drug Delivery Business News. […]
Manufacturing companies form collaborative for advancing product development capabilities
A group of manufacturing services companies said today they created a collaboration, called the Medical Device Development Collaborative, to help improve access to a full range of product development capabilities for concept-to-market solutions. The collaboration is based in the Medical Alley region and aims to help small to mid-size OEMs by offering experience and expertise […]
Millar offloads telemetry product line to Kaha Sciences
Medical device and OEM company Millar said today it is selling its lifesciences telemetry product division to New Zealand-based Kaha Sciences. Houston-based Millar said the divestiture comes as the company looks to focus its efforts on the clinical and OEM business segments in a strategy that emerged earlier this year. Kaha Sciences has picked up a handful […]
InstruSafe and Senhance Surgical Robotic System partner to launch instrument trays
Summit Medical's InstruSafe and TransEnterix's Senhance Surgical Robotic System have forged a partnership to launch two new surgical instrument trays for use with the robotic platform. The two new trays will include an instrument tray an an endoscopic adapter tray, both of which have been validated for the Senhance instrumentation. "We are excited to expand our product offering […]
New FDA guidance for dual submission 510(k) and CLIA waiver application for IVD companies
By Stewart Eisenhart, Emergo Group New guidance from the US Food and Drug Administration explains requirements for in vitro diagnostic manufacturers to register for premarket notification using the agency's Dual 510(k) and Clinical Laboratory Improvement Amendments (CLIA) Waiver by Application. Get the full story here at the Emergo Group's blog. The opinions expressed in this […]
Researchers create ultrasound-sensor powered prosthetic hand with individual digit control
Researchers are one step closer to creating a prosthetic hand that allows users to have full control over each finger, according to a new report from Georgia Tech. Researchers at the university say they have created an ultrasonic sensor which allows amputees to control individual fingers on a prosthetic hand, with enough sensitivity to play […]
Medline acquires Centurion Medical Products
Medline recently completed its previously announced acquisition of Centurion Medical Products – boosting offerings around the Medline Erase BSI line access and dressing change bundles. Financial terms of the deal were not disclosed. Medline's Erase BSI is meant to standardize best practices around central lines post-insertion, reducing cases of bloodstream infections. On top of its minor procedure trays, Centurion makes vascular insertion […]
Cadence expands laser processing capabilities
Cadence has expanded its laser processing technologies with a new CL900 Cincinnati laser cutting machine. The new 4,000W fiber laser cutter adds to Cadence's modified tube cutting lasers and completely custom flat sheet cutting lasers, Cadence announced yesterday. It also has the ability to cut 1,000 in. per minute (IPM) with a positioning accuracy of +/-0.001 […]
These artificial heart muscle patches can repair dead heart muscles
A team of biomedical engineers have developed a fully functioning artificial human heart muscle that can be used as a patch to repair dead heart muscle. Duke University biomedical engineers developed the patch to be used in human patients who have previously suffered a heart attack. "Right now, virtually all existing therapies are aimed at […]
How to think outside the box with medtech innovation
Innovation is important in medtech and many other industries. But what does it really mean – and can it be done with speed? That was the question that a panel of experts – moderated by William Betten of Betten Solutions – grappled with today at DeviceTalks West in Orange County, Calif. It turns out that […]
https://www.captis.com/wp-content/uploads/2017/12/companion-medical-insulin-pen-large.png
400
700
CAPTIS
https://www.captis.com/wp-content/uploads/2016/11/logo_transp_top_final.png
CAPTIS
2017-12-14 05:41:41
2017-12-15 06:51:30
Companion Medical launches smart insulin pen in U.S.