This article was originally published
here

June 25, 2015
By Riley McDermid, BioSpace.com Breaking News Sr. Editor
As president and CEO of CombiMatrix (CBMX), a clinical diagnostic laboratory specializing in cytogenomic testing, Mark D. McDonough sees a lot of potential candidates come through the door looking to join his team. His company specializes in testing for prenatal diagnosis, miscarriage analysis, and pediatric developmental disorders. As a full-scale cytogenetic and cytogenomic laboratory, CombiMatrix offers chromosomal microarray analysis, standard and customized FISH, and high resolution karyotyping to help clinicians better care for their patients. That means McDonough needs the absolute best team he can put together—and this year, that means nearly doubling his staff, he told BioSpace (DHX) in an interview.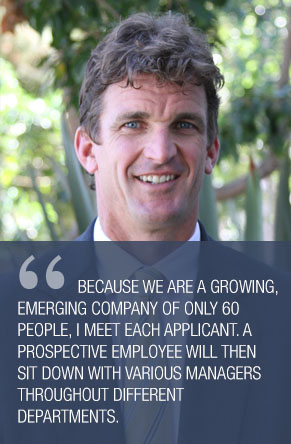 1. Where are you looking to add staff this year? Has that changed from last year?
This year we're doing an enhanced expansion of our sales organization, taking it from 12 to 20 individuals by year end, which is exciting. We brought in six people in the last few weeks and are looking to add two to three more by the end of the year. In addition, we're adding to our billing and reimbursement team, our genetic counseling team and to key positions in the laboratory.
2. What are your "green light" signals for knowing a candidate is the right one for you?
We look for a few things but primarily hunger and desire, coupled with empathy. We are a health care organization that delivers results back to patients, so we want everyone throughout our organization, whether they're on the medical team or sales or customer service or billing, to have that empathy for the patient. We are also growing, so we need people who are hungry and really want to be a part of an organization where a culture of winning is being built. We want our new hires to be a cultural fit, to be positive and to be empathetic; these are significant factors for us. We want to create an organization of like-minded individuals who can work effectively to build the business.
3. Walk us through your interview process—how it starts, how long it typically lasts, and what you're looking for when hiring.
We are a lean company, so we don't have a full-time recruiter or human resources department. A department supervisor or manager will do the initial screen; once satisfied, we bring the applicant into our home office for a one-day meet and greet. Because we are a growing, emerging company of only 60 people, I meet each applicant. A prospective employee will then sit down with various managers throughout different departments. Again, we look for a cultural fit who meets our criteria and the process can be done quickly or be more extended depending on our needs and the manager's sense of urgency to fill the position.
4. How can a potential hire stand out to you when interviewing?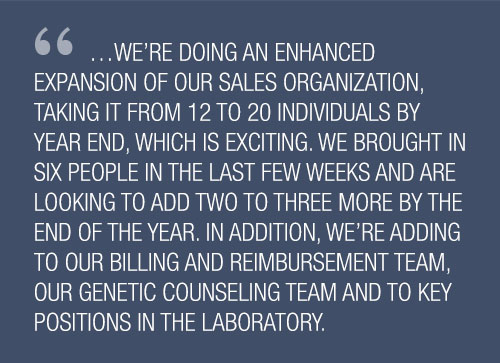 Clearly we like applicants who can present well and who have a track record of success, but what really stands out to us is an applicant's attitude in the interview, how others perceive them throughout the process and their personal qualities that define them individually, beyond work experience alone.
5. When you talk to candidates, how closely are you looking for a good "culture fit"? How is that unique at CombiMatrix?
Cultural fit is a big deal. When you have a lean, growing, small-yet-mighty company, you need to make sure that everyone is comfortable with a new hire. If you don't have cultural fit in a small organization, it can impact a large percentage of employees quickly, so it's important to bring on people who want to achieve what we want to achieve—specifically, providing the best patient care, helping to get the company to profitability, making sure our shareholders look smart by investing in us and continuing to deliver accurate and meaningful results to the patients and physicians that we serve.
Check out the latest Career Insider eNewsletter – June 25, 2015.
Sign up for the free bi-weekly Career Insider eNewsletter.
https://www.captis.com/wp-content/uploads/2015/06/enewsletters.biospace.combiospace-news-combimatrix-4bf2cf20afac6ea13ce9ab91388641e6c6d45831.jpg
384
815
CAPTIS
https://www.captis.com/wp-content/uploads/2016/11/logo_transp_top_final.png
CAPTIS
2015-06-24 16:00:00
2017-03-22 17:19:07
CombiMatrix Will Nearly Double Staff in 2015 As Hiring Roars, CEO Says