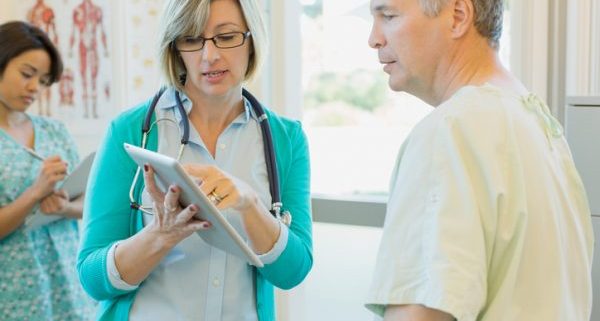 This article was originally published
here
When you're sick or require medical attention, you need your wits about you. But emotions and physical limitations can impede the ability of a patient or their family to understand and retain important details, such as instructions for surgical prep or aftercare, which can have a significant impact on a patient's health outcomes. In fact, it's estimated that 50 percent of patients don't experience optimal clinical outcomes because they don't correctly follow their physician's instructions.
Not only does lack of adherence affect individual patients and their families, but it can drive up health care costs for families, employers and the country. In fact, in the United States alone, avoidable costs from non-adherence range from $68 to $146 billion annually, with the largest contributor being unnecessary hospitalizations.
Patient education and clinical checklists go digital
Fortunately, an emergence of new technology coupled with clinical expertise and best practices in patient education and engagement is delivering promising results in this area. The result is interactive technology that blends clinical checklists with patient education and engagement content in a digital format.
Checklists are a best practice in clinical settings and have been used to reduce surgical infections and medical errors for some time. For example, a clinical trial known as the Keystone ICU Project, which was launched in Michigan in October 2003, demonstrated that the use of checklists contributed to a 66 percent reduction in catheter-related bloodstream infections in 18 months.
What's new
Advancements in personal technology and the growth and availability of mobile devices have created new opportunities for hospitals to blend their checklist strategy with patient education and outreach in ways that engage patients and families in care delivery and condition management.
These cutting-edge technology platforms are being delivered in an open, interactive content framework that reflects patient preferences, with a focus on patient-centered care and shared decision making. Data sharing and reporting are essential features that give clinical staff real-time access to patient-reported outcomes and measures while enabling system-wide reporting.
The ability to integrate a patient engagement platform into a hospital's existing electronic health record (EHR) is essential, because it gives physicians the ability to prescribe educational content and care instructions with a great degree of personalization. For example, rather than sending home a printed sheet of instructions with a patient before or after a surgical procedure, health care providers can prescribe instructions that are delivered via telephone, text or email to patients at the time they need to take a particular action; whether it's prepping for a surgical procedure or managing a long-term condition.
A win-win for patients and providers
Interactive patient engagement platforms are proving to be a win-win for patients and health care providers alike. Not only do they support hospital quality and safety initiatives related to things like infection rates, but they also align with value-based payment systems and reporting requirements, such as MACRA and MIPS, that focus on clinical outcomes and patient-centered care. At a system-level, this technology can help health systems reduce costs associated with last-minute surgical cancellations and readmissions, while improving patient satisfaction scores on surveys such as HCAPS.
For patients and their families and caregivers, new technologies are giving them anytime access to their health care information and opening the lines of communication with clinical staff like never before. This increases the likelihood that patients will receive the right information at the right time, and they will have the knowledge to follow care instructions. At the end of the day, that can translate to a faster recovery time, decreased chance of readmission or complications after surgery, and reduced out-of-pocket expenses.
As we make our way through 2017, there is sure to be change in the health care system. But the focus on quality, safety, outcomes and cost will remain. And the innovative use of technology solutions that engage patients and improve care delivery will continue to be just what the doctor ordered.
Photo: Hero Images, Getty Images
https://www.captis.com/wp-content/uploads/2017/03/medcitynews.comGettyImages-168360261-600-07c56f6cd4e14f2e7c8d121a54e7c74b9a9a9c56.jpg
400
600
CAPTIS
https://www.captis.com/wp-content/uploads/2016/11/logo_transp_top_final.png
CAPTIS
2017-03-22 14:23:08
2017-03-22 14:59:04
Clinical checklists blended with patient education and engagement can drive better outcomes