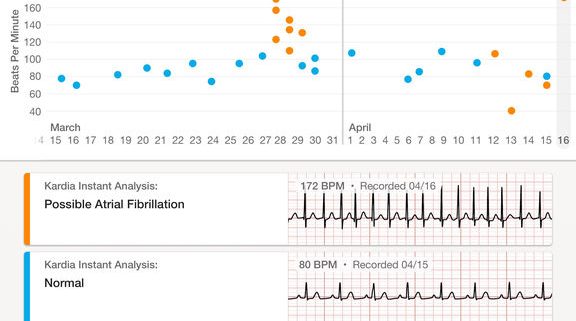 AliveCor, which has developed an FDA-cleared smartphone-enabled ECG device, has launched a clinician-facing app using artificial intelligence to pick up signs of atrial fibrillation earlier, according to a company news release. It's an interesting development for the business because it can alert physicians to patients with an elevated risk of having a stroke.
The Kardia Pro app is for clinical use. But the goal is to analyze data from patients that includes weight, activity and blood pressure with AI to personalize the heart profiles of each patient, the news release said.
Last year, AliveCor partnered with Omron Healthcare to add Omron's hypertension screening capabilities to AliveCor's app.
An estimated 795,000 people suffer a stroke each year, the majority of them for the first time. If you factor in hospitalization, medications and time off of work, strokes cost the U.S. roughly $33 billion each year, according to data from the Centers for Disease Control.
AliveCor also closed a $30 million Series D round led by Omron Healthcare and Mayo Clinic. The funding will be used to speed up innovation in heart health and grow the business.
The launch of the company's Kardia Pro app is an important milestone for AliveCor. But at a time when the hype around AI has reached a fever pitch, clinical validation will be critical to demonstrate how effective the company is at spotting early signs of life-threatening conditions such as stroke and whether these interventions improve patient outcomes.
Features Photo: Bigstock
https://www.captis.com/wp-content/uploads/2017/03/medcitynews.comAliveCor-Kardia-Pro-pic-f-7edf99758493af763b3143f88ace282172d363ae.jpeg
768
576
CAPTIS
https://www.captis.com/wp-content/uploads/2016/11/logo_transp_top_final.png
CAPTIS
2017-03-16 08:24:45
2017-03-22 14:59:49
AliveCor launches clinical app with AI function for early detection of AFib to prevent stroke