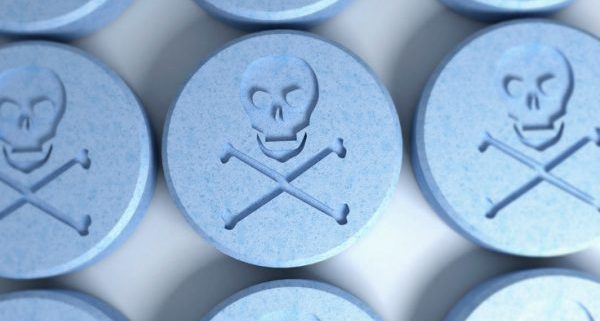 Don't make the same mistake we did.
That's the message of Dr. David Ring, a hand surgeon and chair of the committee of patient safety at the American Academy of Orthopaedic Surgeons, to doctors across the pond. On Wednesday, Ring was joined by Dr. Sommer Hammound, a lead author on a study about orthopedic pain management and opioid use being presented at the annual meeting of AAOS in San Diego this week.
Orthopedic surgeons are the third-highest prescribers of opioids, Hammound pointed out from a specialty standpoint indicating that it is incumbent that they understand their risks and look for alternatives. One such alternative may be on the horizon if a Mass General researcher is successful.
Based on the opioid study, Hammound concluded that multimodal medications and surgery pretreatment plans should be explored before going the narcotic route. Ring laid the phenomenon of rampant opioid prescription at the feet of the pharma industry.
"Why were we using so many opioids – why were we emphasizing opioids in our pain regimen," Ring asked. "It's because the pharmaceutical industry was really pushing it."
He acknowledged a level of complicity by noting that surgeons didn't want to receive calls on the weekend from angry patients unhappy with the pain they were in and ended up ordering narcotics for them.
"The culture became, 'We undertreat pain. Who wants to be a bad person like that, and the way to treat pain is opioids," Ring said describing the rationale for opioid prescriptions.
But it's also ironic that "opioids are not great pain relievers," he declared. He noted how overseas physicians are cautious about prescribing these addictive drugs. In places like Chile, they use Tylenol to manage pain from orthopedic procedures, for instance.
"Keep in mind that that most of the world does the same operations that we do … and uses minimal opioids," Ring said.
The pharma industry has been less aggressive in marketing these drugs in places like Chile because of the culture of how pain is managed, he said, but across the Atlantic it's a different story.
"If you look at Europe they are starting to use more and more opioids and it's [because] of the pharmaceutical industry," Ring charged. "They are not very aware of the epidemic here."
He added that orthopedic surgeons are trying to send a message to their European brethren: "Pay attention. Don't make our mistake."
Now, the goal for orthopedic surgeons should be to communicate better with patients to try and get them ready mentally for the procedure ahead because it is those who believe that they will be able to get through the pain are those that end up needing less opioids, he said.
"The thing that really works well is self-knowledge," Ring said, noting that cognitive behavioral therapy may need to be added to the mix in dealing with pain instead of opioids because opioids cannot treat stress or worry.
"You could train your mind just as well as you could train your body," he said.
Meanwhile, Orhun Muratoglu, director of the Harris Orthopaedic Laboratory and director of the Technology Implementation Research Center (TIRC) at Massachusetts General Hospital, believes he may have hit upon an idea of continuous pain relief even after patients have undergone a joint replacement procedure.
That would reduce or even eliminate the use of opioids post-procedure for pain relief.
In an interview during the AAOS annual meeting Wednesday, Muratoglu explained that doctors usually inject a local anesthetic like liposomal bupivacaine or bupivicaine to help with pain relief, but the effect wears off soon after the joint replacement.
Doctors sometimes leave ports open on the body for later injections but that increases the chance for infection, also not a desirable outcome.
A couple of years ago an orthopedic surgeon at Mass General approached Muratoglu saying that there must be a better way to provide pain relief than the current standard of anesthetic injections during procedure and opioids thereafter.
That's when Muratoglu began working with polyethylene a common material used in joint replacement implants. He infused bupivacaine into the material and then tested the effect on rats. Those with just the polyethylene limped along while those with the bupivacaine-infused polyethylene walked normally.
"Bupivacaine works very well if you can deliver it constantly," he said.
The polyethylene essentially becomes a drug delivery mechanism through which bupivacaine can be delivered.
"What we did is put the bupivacaine into polyethylene and release it from the polyethylene slowly and we can do a release for a week," he explained.
Muratoglu hopes to be able to convince the FDA about the safety of this and run a small, 20-patient feasibility trial. He will be presenting on this at the Hip Society meeting on Saturday.
Muratoglu has had success in developing novel approaches in the past.Per his bio, "medical implants fabricated using technologies developed by Dr. Muratoglu have been in clinical use since 1998 with over 7 million implantations worldwide."
The bupivacaine-infused polyethylene approach is likely several years away but if successful, orthopedic surgeons may have a tangible device approach to solve a pressing problem.
Photo: MedicalRF.com, Getty Images
https://www.captis.com/wp-content/uploads/2017/03/medcitynews.comGettyImages-87379150-1-60-36adb69cc20ceb839a26eb636ca4294256767465.jpg
388
600
CAPTIS
https://www.captis.com/wp-content/uploads/2016/11/logo_transp_top_final.png
CAPTIS
2017-03-15 19:13:24
2017-03-22 14:59:51
Stung by opioid crisis, doc warns European counterparts while researcher develops possible solution