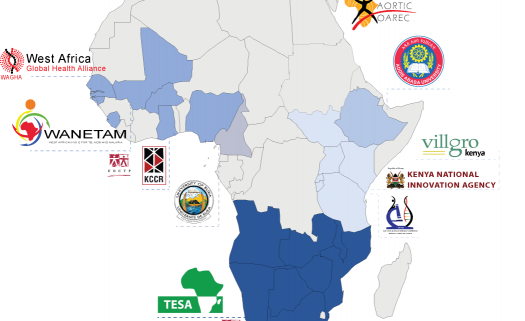 Breaking Buzz is BIO's newest blog series that reaches across the globe to bring you an insider's preview into the hottest international and partnering trends coming to San Diego for the BIO International Convention.
The Fastest-Growing Continent You Thought You Knew
The African continent is currently home to seven of the world's top-ten fastest-growing economies; and by 2050 (just 33 years from today!) is projected to represent 26% of the global population.
Let that sink in for a minute.
There are 54 countries within the continent which spans more than 11.7 million square miles – second only to Asia both in percentage of land on earth, and population; it is home to over 1.2 billion people many of whom are now referred to as the world's fastest-growing middle class. And get this: World Economics, a research organization that measures global economic activity, reports that the African continent has surpassed Europe and the Americas in real GDP growth when measuring by continent, from 1961 to 2015.
So what's a continent to do with so much potential? Breaking Buzz asked Jennifer Dent, President of BIO Ventures for Global Health (BVGH) just that and she says, it all starts at the BIO International Convention.
"We brought in the first African delegation to the Convention from Nigeria in 2014. The next year, six countries came, and we had the first Africa Pavilion. Last year in San Francisco we had 16 African countries present. But this year in San Diego we will have 24 countries from the African continent and upward of 30 delegates – and for the record, these aren't just any delegates. The delegates at the pavilion have real authority, so expect action."
She is referring to Ministry of Health officials and advisors representing several countries, Nigeria, Kenya, Tanzania, Côte d'Ivoire; and high-level decision makers from academic, non-profit organizations, and life science companies. Collectively they represent 24 of the African continent's 54 countries and share a common mission: to engage biotechnology, pharmaceutical, and life science companies in meaningful initiatives, programs and partnerships to impact global health.
The quality of attendee is a direct reflection of recent findings reported by the World Bank who had this to say about Africa: Fostering public and private investment in infrastructure has become a priority to the African continent, [so] with well-targeted capital investments and policies fostering competitiveness and productivity, Africa's larger and younger work force has the potential to transform the continent.
"Think about what's important to industry" says Dent; "they're looking for growth opportunities in markets across the globe, and as the World Bank reveals, Africa has made considerable progress in its infrastructure development and emerging market status. While these countries have grown and prospered, however, so have non-communicable diseases like cancer and diabetes gown in prevalence; these aren't just markets for anti-malarials and other anti-infectives anymore."
To enter the African market, Dent stresses that partnerships will be critical to obtaining the in-depth knowledge of the continent's infrastructure, politics, and disease landscape; that's where the Convention comes into play and why she'll be launching a new initiative in San Diego this year.
The African Access Initiative will be launched on Wednesday at the BIO International Convention in San Diego; it is an integrated package of programs, activities, and partnerships designed to address the primary barriers to cancer treatment in Africa. The AAI will create new business models and tap into company products to establish access to cancer medicines and biologics. The program will augment the African Organization for Research and Training in Cancer which is furthering research relating to cancers prevalent in Africa and facilitating and supporting training initiatives in oncology for health-care professionals. AAI will also support leading cancer researchers dedicated to building clinical trial networks, and determining how genetics affect the types of cancer prevalent to the area.
Two groups from Kenya, incubator Villgro Kenya, and the Kenya National Innovation Agency whose Chairman Professor Reuben Marwanga will also be present, are both working toward the development of a better ecosystem to support innovation and innovators in the country.
"That's a lot," says Dent enthusiastically, "and we have just scratched the surface. There are many milestones being reached in Africa, and taking it all in can be a challenge; which is why we're presenting a one-hour media event at BIO to overview each of the 24 countries and their primary areas of therapeutics."
Jim Greenwood, BIO President and long-time Africa advocate will open the event at 10:45 on Tuesday morning, the first full day of the Convention. Also in attendance will be the European Commission's Deputy Head of Unit, Health Directorate Dr. Philippe Cupers who will introduce the European and Developing Countries Clinical Trials Partnership.
The event will take place in the African Pavilion where you can visit 24 countries in one hour. No frequent flyer miles earned, but hey, what an efficient way to travel.
https://www.captis.com/wp-content/uploads/2017/05/www.biotech-now.orgsub-sharan-africa-525x400-26597f452c681ed4bcbe35e2fb24a95672313258.png
400
525
CAPTIS
https://www.captis.com/wp-content/uploads/2016/11/logo_transp_top_final.png
CAPTIS
2017-05-17 09:30:27
2017-05-23 09:47:21
#BIO2017: A Peek at Pavilions | Sub-Saharan Africa