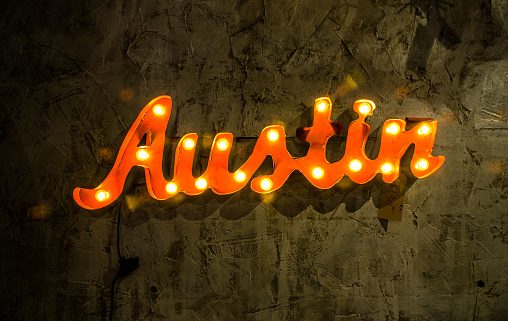 Disruption has been the theme for healthcare at South by Southwest with everyone looking to disrupt the status quo. Other than the cold and rain, the Health track may have been the real disruptor of SXSW 2017, which was exciting for those passionate about the healthcare disruption movement. The health track sessions moved from the JW Marriott to the Austin Convention Center, and saw significant wait times at sessions.
It was great to be reunited with the supportive and collaborative SXSW community not viewing innovation as a transactional, zero-sum game, but inspired by a group of people working on the same problems and supporting the success of each other. Shawna Butler of Singularity University, an Austinite, referenced the city in a way I loved saying, "Austin is full of pathologically helpful people". I could not agree more about Austin or the SXSW community.
The SXSW health track attendees covered the ecosystem of patient care, provider support, policymakers, entrepreneurs and investors seeking to improve healthcare globally.
Rise of the health innovation hubs
TMCx, athenahealth, StartUp Health and J&J Innovation had a nice presence at SXSW. These accelerators attract and reward top startups with capital and nurturing to rapidly commercialize concepts within healthcare ecosystems. Look for the next wave of successful digital health companies from these channels that nurture leading concepts and top talent they select when they believe they can accelerate them.
GE Vice Chair Beth Comstock and Steve Case, chairman and CEO of investment firm Revolution LLC, discussed his "Rise of the Rest" concept on a panel. They discussed how tech innovation first evolved regionally from within corporations. Innovation then consolidated to venture capital markets in New York City, San Francisco and Boston. Case's boomerang theory represents today's third wave from venture arms in corporations that fund and partner with external startups to tap into the entrepreneurial spirit and harvest innovation. Case used the healthcare hubs as an example. He also referenced GM for leading Lyft's recent round.
Baylor Scott & White Hospitals put together a talk on Embrace Digital Disruption to Reinvent Healthcare with a panel of exciting digital health startup CEOs they're partnering with. Baylor realizes, like many hospital systems, they are ill-equipped to innovate and develop digital tools and seeks outside partnerships to assist their desired change towards consumerism, greater access, and improved population health outcomes. PediaQ CEO, Jon O'Sullivan, discussed their partnership and how their Q.care mobile app provides triage video access to answer questions and navigate a patient to the best point of care or old fashioned house calls on demand.
The Impact Pediatric Health competition was hosted by eight top hospitals to showcase pediatric healthcare innovations they can accelerate and commercialize. Keriton was the digital health winner for improving breast milk for NICU babies and Luminopia won in Medtech using VR for visual and neurological care.
Runner-up CareDox created a technology hub connecting schools, families and providers to coordinate care. CareDox CEO and founder, Hesky Kutscher, framed the opportunity and importance to improve pediatric care in a new way for me, "with 50 million children enrolled in U.S. public schools, it is a patient population larger than Medicare. School nurses, teachers and coaches need to be tremendous partners with hospitals in improving children's health outcomes and prevention." Connecting the overall community to improve our care system, rather than talking about HIPAA, is the exciting disruption we need.
Connecting the overall community to improve our care system, rather than talking about HIPAA, is the exciting disruption we need.
The latest on health tech investing
Whether listening to investment panels, or meeting investors at the Capitol Factory Founders party, there is clearly a lot of money seeking the next disruptive startup. We have seen fewer total deals recently with more late-stage deals completed, however, there is still a lot of interest and money looking at early stage deals. With the lower costs for bringing minimally viable products (MVP) to market today, we are seeing VCs willing to make smaller bets on earlier stage companies than their primary investment thesis, when they like the team, concept and see follow-on investment opportunities.
Troy Bannister, director of scouting and onboarding from the StartUp Health army of Health Transformers, led a panel on Real Success Stories of Hackathons. This panel adapted the MIT Hacking Medicine concept teaching healthcare entrepreneurship to solve global healthcare problems. The group discussed what entrepreneurs need to do next to build an MVP and then a successful company. Bannister discussed the entrepreneurial mindset required to create and communicate a vision that can attract both 'A players' and capital as used in StartUp Health to assist their companies achieve this.
Disrupting healthcare requires strong leadership, a strong team and a vision but also the ability to remain nimble in a rapidly evolving system. Positioning the company for where the puck might be in a few years is a foundation VCs seek more than a great product or business model.
Telemedicine Magazine publisher, Logan Plaster, and I walked the convention floor together discussing innovative presenters. Two that stood out to us were PokitDok and Tellus as the infrastructure players that will be at the heart of the new digital systems. PokitDok calls itself the infrastructure for digital health with an API allowing two-way interoperability between devices, apps, hospitals and payers. Tellus has patented the technology allowing hospitals to add apps to their system.
One other consistent point I heard was that the health systems are seeking partners, products and services that lower cost or increase access. Hospitals and systems expect to serve more underinsured patients and take on more bad debt. These leaders seek to improve care, but all have a top-down mandate to seek solutions that lower costs. Follow the money as investors look for cost saving platforms.
Joe Biden discusses his Cure Cancer Moonshot
The passionate former Vice President Joe Biden headlined the Connect to End Cancer sessions. Technology is playing a greater role in research to accelerate finding cancer cures but also to improve care in innovative ways. Biden spoke intimately about losing his son to the disease and the need for scientists to share data and research rather than everyone working in silos.
After Biden's talk, an attendee spoke to him and shared how his wife was battling Leukemia. Biden asked how she was and looked relieved to learn she was in remission. Then he demanded to get her on the phone. Joe left her a long message telling her how much her husband cared for her and how much he admired her courage for fighting her battle. Everyone attending this session was inspired and strengthened that Biden is making Cure Cancer his personal moonshot.
Social fabric of Austin
Guerilla marketing was as popular as ever, even with the weather. Supa was one group I enjoyed running into. Many panels discussed sports, AI, biometrics, and cognitive tracking, and the Supa Heroes infiltrated events and parties in their onesies and sweaters to promote their sports, fashion and biometrics products.
It's shameful to not take advantage of the social fabric of Austin, as that's part of the SXSW experience — seeking out the best parties and staying out later than planned. The rain altered the SXSW ethos around party hopping and relaxing with a drink and live music in the sun. Still, we were able to work in some of the local culinary favorites — a margarita and some tacos al pastor at Guero's Taco Bar, breakfast tacos at Tacodeli, and Texas brisket at Stubb's.
One thing will never change about SXSW. It was a great week to see old friends, make new connections, and get inspired by new technology and entrepreneurs. Thank you, Austin, and your community of pathologically helpful people.
https://www.captis.com/wp-content/uploads/2017/03/medcitynews.comGettyImages-519384395-7b8b825d3bf9f4cc0355f995bb2829b99e2cd9ca.jpg
339
508
CAPTIS
https://www.captis.com/wp-content/uploads/2016/11/logo_transp_top_final.png
CAPTIS
2017-03-15 21:37:21
2017-03-22 14:59:50
Miss the SXSW festival? Here were the healthcare highlights from Biden to health innovation hubs