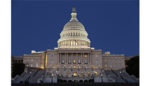 This article was originally published
here
A new bipartisan effort from the US Congress' Problem Solvers Caucus that looks to alter Obamacare includes a provision to eliminate the 2.3% medical device tax, according to a Finger Lakes Times report.
The movement has received support from democratic Colorado Gov. John Hickenlooper and Repub. Ohio Gov. John Kasich, who said they are looking for a plan to stabilize the healthcare markets and lower insurance premiums, according to the report.
"It is a great day for American when we put aside our political differences and put Americans first. The Problem Solvers Caucus, in conjunction with governors Kasich and Hickenlooper, demonstrated to our colleagues that only by working together can we solve America's problems. Looking forward, we are already working on tax reforms that will remove the shackles from American business and unleash the innovation and optimism that drive America," Congressman Tom Reed (R-N.Y.) said, according to the paper.
The removal of the 2.3% device tax would benefit medical device developers, as currently the costs associated with the tax are passed on to the consumers, the caucus claims.
The group has a number of other recommendations for improving the healthcare system in the US, including a commitment that the Trump administration agree to cost-sharing reduction payments and the adoption of a temporary stability fund by congress to create reinsurance programs and reduce premiums.
The plan would encourage insurance companies to enter underserved areas by exempting insurance tax on exchanges in those regions. The individual mandate would be retained, at least for now, and younger people would be encouraged to get insurance to help balance the system, according to the report.
Cost-sharing reduction payments would be moved under congressional oversight, and dedicated stability funds would be formed to reduce premiums and limit losses for providing coverage, specifically targeting individuals with pre-existing conditions.
The employer mandate would be moved from 50 employees at 30 hours to at least 500 employees at 40 hours, according to the report.
The post Bipartisan 'Problem Solvers' healthcare reform bill would kill medtech tax appeared first on MassDevice.
https://www.captis.com/wp-content/uploads/2017/09/www.massdevice.comcapitol-hill-small-150x86-ec09b7b6e3919f1df420bc6fe3cd0963c1db812f.jpg
86
150
CAPTIS
https://www.captis.com/wp-content/uploads/2016/11/logo_transp_top_final.png
CAPTIS
2017-09-13 07:43:21
2017-09-14 11:03:20
Bipartisan 'Problem Solvers' healthcare reform bill would kill medtech tax