This article was originally published
here

August 11, 2016
By Mark Terry, BioSpace.com Breaking News Staff
One life science startup has taken a different approach to employee incentives. Rather than the more common stock options, Raleigh, North Carolina-based Practichem plans to lease a Tesla Model 3 for each employee, even the ones it hires in the coming year. Practichem full-time employees qualify for a new Tesla Model 3 lease, paid and managed by the company.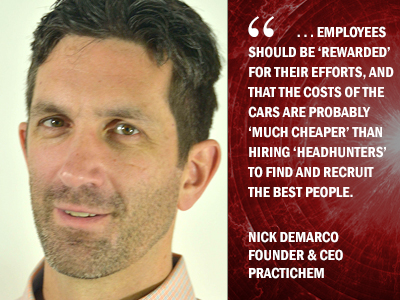 Practichem describes itself as a biotech instrumentation company. The company's lead product is Arista Slice, which is used to efficiently purify proteins using chromatographic techniques. The tech platform apparently takes up only a quarter of the space at half the cost of other approaches. The company recently completed a $5 million private funding round for staff expansion in R&D, product marketing, and manufacturing operations. "Closing this round positions Practichem for a great future in the emerging confluence of Internet of Things and Open Science" said Nick DeMarco, the company's founder and chief executive officer. "We're excited to be a first mover, building open research tools to speed cures for the world's most challenging diseases."
The company currently employees 15 people, and plans to hire another 10.
Practichem originally announced the incentive in May. "Our vision shares similarities with Tesla Motors; both companies positively impact humanity with real change," said DeMarco. "People driven to solve big issues share core values. Many of our employees have marveled at Tesla's approach. Their compelling all-electric vehicles drive us to make real change in our field."
The Tesla Model 3 is the company's third electric vehicle, and the starting price is around $35,000 before incentives. It has seating for five adults, and has a range of 215 miles per charge. It won't be available for sale or lease until late 2017.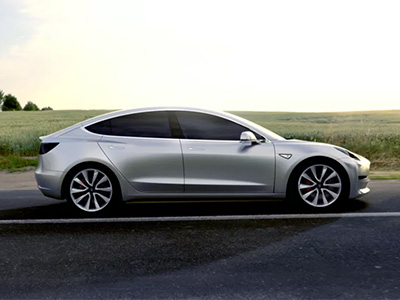 Tesla Model 3

The company's other two vehicles, Model S and Model X, are more luxury models, with starting prices of around $70,000 and $80,000, respectively. There was unexpected interest in the more affordable Model 3, which has driven some analysts to wonder how the company will handle demand. Tesla's chief executive officer, Elon Musk, has stated that it's not an issue, and recently raised $1.5 billion in a new common stock offering to finance Model 3 product expansion.
How much interest? About 100,000 people plunked down $1,000 to reserve the vehicle before anybody had even seen it. And in one week, 370,000 deposits were made.
DeMarco told the News Observer that his employees should be "rewarded" for their efforts, and that the costs of the cars are probably "much cheaper" than hiring "headhunters" to find and recruit the best people.
He also said that, "It doesn't hurt to get publicity when we're trying to hire more people."
Hopefully, for the current and future employees of Practichem, Tesla will do a little bit better than it usually does in keeping to a schedule. And although Musk had provided a positive face on things, Fortune calculated that about half of the quarter-million-plus reservations won't be filled until 2019 at the earliest, and some not until 2020.
As a PR move, offering Tesla Model 3s as an incentive is certainly effective—witness this article—and it's probably more immediate than stock options. Nonetheless, new-hires and current employees will probably have to be patient while they wait for their new cars.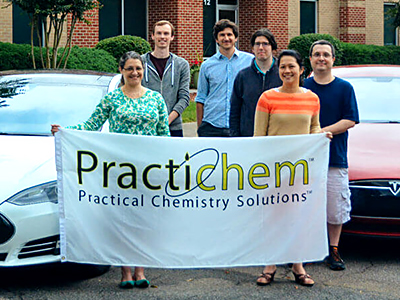 Practichem Employees

Alanis King, writing for Jalopnik, said, "As for actual order fulfillment for the Model 3, Fortune broke down the numbers with Cairn Energy Research Advisors. Tesla expects to begin shipping the car at the end of 2017, and an optimistic estimate for Model 3 production rate would be 76,860 total by the end of 2018. … For those who are into the whole 'good things come to those who wait' logic, you'll probably be in luck when it comes to the Model 3."
On the other hand, Practichem looks like a solid company doing interesting and promising work and currently has plans to fill 10 positions. For example, there's now an opening for a Biochemistry Media Specialist. If you're a strong communicator who happens to know biochemistry, this is a great job to keep chemistry and technical communication skills honed. The best part of this position is that you can work from anywhere!
Check out the latest Career Insider eNewsletter – August 11, 2016.
Sign up for the free bi-weekly Career Insider eNewsletter.
https://www.captis.com/wp-content/uploads/2016/08/enewsletters.biospace.combiospace-news-815x600-pra-803349f5937c31fc16d1ed8aec18581b7cbad188.jpg
500
815
CAPTIS
https://www.captis.com/wp-content/uploads/2016/11/logo_transp_top_final.png
CAPTIS
2016-08-14 16:00:00
2017-03-22 17:15:57
Biotech Startup Practichem Is Buying Tesla Cars for Its Employees