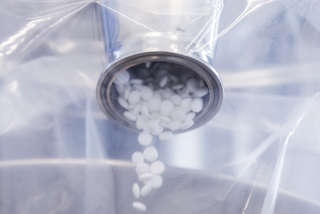 This article was originally published
here
PBR Staff Writer Published 22 January 2018
AstraZeneca has secured approvals for its cancer drug Lynparza (olaparib) and asthma drug Fasenra (benralizumab) from the Japanese Ministry of Health, Labour and Welfare for the treatments of ovarian cancer and bronchial asthma, respectively.
Lynparza has been approved as a maintenance treatment for patients in whom ovarian cancer had relapsed, and are sensitive to platinum chemotherapy.
The approval for the treatment is irrespective of the patients' BRCA mutation status and for those who had responded to their last platinum-based chemotherapy.
Lynparza, which is co-developed and co-commercialized by AstraZeneca and Merck, is an oral poly ADP-ribose polymerase (PARP) inhibitor. It has been developed to make use of tumor DNA damage response (DDR) pathway deficiencies to selectively kill cancer cells.
The approval for Lynparza was based on the findings of two randomized trials SOLO-2 and Study 19, which assessed it as a maintenance therapy for platinum-sensitive relapsed ovarian cancer.
In both the phase 3 SOLO-2 and the phase Study 19 trials, treatment with Lynparza tablets significantly improved the progression-free survival (PFS) in comparison to placebo.
AstraZeneca executive vice president and oncology business unit head Dave Fredrickson said: "We are proud to bring this important first-in-class treatment to women with platinum-sensitive relapsed ovarian cancer in Japan who currently have very few treatment options.
"The trials show that with Lynparza maintenance therapy, women with ovarian cancer can live longer without their disease worsening and Lynparza is well tolerated."
Fasenra, which is for use as an add-on treatment for bronchial asthma patients, has been approved for patients who continue to suffer from asthma exacerbations in spite of their treatment with high-dose inhaled corticosteroid and other asthma controllers.
AstraZeneca said that Fasenra will be launched as a fixed-dose subcutaneous injection in a prefilled syringe. The drug has been indicated to be given once every four weeks for the first three doses, and then once every eight weeks thereafter.
Its approval was driven by the findings of the WINDWARD program, including the SIROCCO and CALIMA pivotal phase 3 exacerbation trials and the ZONDA phase 3 oral corticosteroid (OCS)-sparing trial.
---
AstraZeneca has secured approvals for Lynparza and Fasenra in Japan. Photo: courtesy of AstraZeneca.
https://www.captis.com/wp-content/uploads/2018/01/astrazeneca-tablets-manufacturing.jpg
214
320
CAPTIS
https://www.captis.com/wp-content/uploads/2016/11/logo_transp_top_final.png
CAPTIS
2018-01-21 21:13:00
2018-01-22 00:56:22
AstraZeneca secures approvals for cancer and asthma drugs in Japan