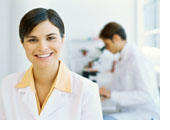 This article was originally published
here
Attract the best candidates with Biospace Job Postings. Post a Job in minutes and find top life science candidates.
By Angela Rose for BioSpace.com
If you're a biopharma hiring manager or recruiter, you're aware the industry is in a state of flux. By some counts, companies laid off 150,000 workers between 2009 and 2012. Layoffs continue to this day as organizations restructure their operations, particularly in R&D. In fact, according to the most recent report from PwC Health Research Institute (HRI), 35 percent of life science companies have revamped their R&D models in the past three years.
Hiring needs are changing as a result, creating candidate-sourcing challenges despite the number of unemployed biopharma professionals looking for work. Of the executives surveyed for the HRI report, 51 percent stated that hiring has become increasingly difficult and only 28 percent feel confident that they will have access to top talent in the coming years. While it's logical to seek biopharma professionals who fit perfectly into your available jobs, these individuals are apparently in short supply. Fortunately, there are alternative approaches you can take to satisfy R&D staffing needs.
Invest in Education
According to the aforementioned report, biopharma industry executives have identified the ability to develop and manage outside partnerships as the most needed new R&D skill. Experience in regulatory science was a close second, followed by bioinformatics and health economics outcomes research. Unfortunately, these skills are not typically part of traditional scientific training.
It while take some time before new scientists with dual degrees or experience in science and business emerge. In the meantime, there are thousands of other R&D workers looking for jobs. The best way to deal with the perceived 'skills gap' may be for organizations to invest in the training and education of these individuals – and it appears this is shaping up to become a new trend. Sixty percent of the surveyed biopharma executives intend to increase their investments in programs that will create a more skilled workforce over the next three years.
Offer an Unbeatable Package
Whether you manage to find a candidate with the perfect combination of skills, or you are investing training dollars in one who is almost perfect, you still have to prove the opportunity your company offers is the best. An unbeatable benefits package is one way to do this. Top talent will appreciate perks such as severance packages that give them layoff protection, intellectual property sharing, sales royalties, mentoring and – of course – training in the new skills vital to their careers. Yes, such benefits may cost more short term than the basics. However, consider the long-term cost to your company if you miss out on the best talent.
Of course, before you can hire and train the best, you have to find them. This is where a niche community such as BioSpace.com can support your efforts. Not only does the website attract the 16 percent of the U.S. workforce that is actively seeking a new opportunity, its career resources and industry news also draw the 'passive' candidates who are not currently sending out resumes. Post your open R&D positions at BioSpace.com and reach more than 400,000 unique monthly visitors.
About the Author
Angela Rose researches and writes about job search strategy, career management, hiring trends and workplace issues for BioSpace.com.
Reach and recruit life science professionals today.
Check out the latest Inside Recruiter eNewsletter – July 17, 2013.
Related Articles
* Key to Attracting the Passive Jobseeker
* 5 Ways to Improve your Biopharma Hiring Process
* 3 Hiring Risks Biopharma Employers Overlook
https://www.captis.com/wp-content/uploads/2013/06/enewsletters.biospace.comscientist-woman-160-19af70ee89e5815c1928e9ccf343f953c5434665.jpg
130
170
CAPTIS
https://www.captis.com/wp-content/uploads/2016/11/logo_transp_top_final.png
CAPTIS
2013-06-20 16:00:00
2017-03-22 17:05:07
Alternate Approaches to R&D Staffing