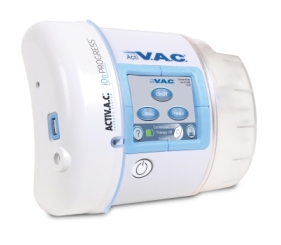 This article was originally published
here
MDBR Staff Writer Published 27 October 2016
Acelity has introduced a remote therapy monitoring system that the company claims will offer continuous at-home monitoring for patients prescribed negative pressure wound therapy (NPWT) in the home.
iOn PROGRESS Remote Therapy Monitoring works in conjunction with the ACTIV.A.C. Therapy System, which was specifically developed for patients treated in the home.
ACTIV.A.C. system's lightweight and ergonomic design helps to use easily, while the patented SENSAT.R.A.C. real time pressure feedback system will maintain the prescribed negative pressure and provide optimal healing outcomes.
The company is also planning to launch a pilot program for iOn RESULTS remote therapy monitoring that works in conjunction with the V.A.C.ULTA therapy system to monitor the therapy units' performance in the hospital setting.
Acelity president and CEO Joe Woody said: "V.A.C. Therapy Systems are the leader in negative pressure wound therapy, and our focus is on expanding the technology with the dual aim of improving patient experience and reducing the overall cost of care.
"We believe that by providing and supporting care in the optimal setting we can reduce the burden on patients as well as total costs; with the availability of the iOn PROGRESS Remote Therapy Monitoring, we move closer to our ultimate goal of achieving these care enhancements."
---
Image: The iOn PROGRESS remote Therapy Monitoring delivers the first continuous monitoring and ready intervention for patients receiving negative pressure wound therapy in the home. Photo: courtesy of Business Wire.
https://www.captis.com/wp-content/uploads/2016/10/image.digitalinsightresearch.iniOn-Progress-875aa3940cad29eb1b848bf3f232b4863e1db5a2.jpg
245
281
CAPTIS
https://www.captis.com/wp-content/uploads/2016/11/logo_transp_top_final.png
CAPTIS
2016-10-26 21:27:00
2017-03-22 14:21:49
Acelity launches new remote therapy monitoring system for wound therapy in home