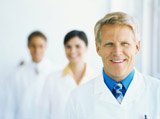 This article was originally published
here
By Angela Rose, BioSpace.com
While it's impossible to open a newspaper, cruise Google's news, or turn on the television with hearing dire predictions about the potential results of the dreaded 'fiscal cliff,' the economy still appears to be on an upswing. The Bureau of Labor Statistics' latest report shows that unemployment dropped to 7.7 percent in November, with 146,000 jobs added across a number of industries. The report also noted that the nation has added an average of 151,000 jobs per month throughout 2012. We believe this trend will continue as economic growth spurs accelerated hiring. Here are our five predictions of top trends in life science recruiting in the coming year.
1. Targeting the Right Job Candidates
In recruiting, less is often more. Sifting through the hundreds of poorly suited applicants a posting on a general job board may generate takes time—time that many hiring managers just don't have. We predict that more companies in the life science industry will recognize the value of targeting the right job candidates in 2013. One way they can do this is by posting positions on industry specific job boards, like BioSpace.com. Another method is developing employee referral programs. Both approaches will reduce the time it takes to satisfy staffing needs in this fast-paced industry.
2. Wooing Boomerangs
The Great Recession brought downsizing and in almost every industry, including biotechnology and pharmaceuticals. Sometimes these layoffs resulted in the loss of top performers and other valuable team members. We predict that recruiters and managers in the life science industry will attempt to woo the best back in 2013. Not only will this make hiring easier because they already have a roster of candidates to approach, it will also enable their teams to maintain productivity during the onboarding process—as the new hires will require little to no training.
3. Using Social Media
Recruiters and hiring managers in many industries have discovered social media's usefulness in regards to connecting with potential candidates, particularly high-quality non-active job seekers. We predict that life science industry recruiters will further embrace this approach in 2013 as well. It will enable them to develop relationships with biotech, pharmaceutical and medical device professionals before they are even ready to hire, adding additional efficiency to the recruitment process once they have the go ahead to proceed.
4. Screening Candidates Online
We predict that online candidate assessment will become increasingly popular with life science industry recruiters and managers as well in 2013. More applicant tracking systems will incorporate skill assessment tests and screening questions to make the selection process more efficient. Long-form questions will enable decision makers to conduct virtual interviews as resumes are submitted, eliminating the need for phone screening of top candidates.
5. Improving the Recruiting Experience
Of course, targeting the right candidate is only the beginning. In 2013, we predict more biotech and pharmaceutical recruiters and hiring managers are going to recognize that landing the best of best requires an optimal recruiting experience. From submission of a resume through the interview and negotiation process, they need to keep things simple, respectful, and pleasant for their applicants. This may mean additional transparency in terms of salary range, benefits, advancement potential, and company culture as well as opportunities for interested professionals to interact with hiring representatives in ways that are convenient for them.
We at BioSpace.com wish your company the best in 2013. Please visit our website often for the latest in biotech and pharmaceutical industry news. And when you're ready to hire, we encourage you to utilize our job board and searchable database of qualified life science professionals.
Read more biotech recruitment articles. Find more Inside Recruiter articles.
About the Author
Angela Rose researches and writes about job search strategy, career management, hiring trends and workplace issues for BioSpace.com.
Related Biotech Employer/Recruitment Articles
* 5 Keys to Capturing Top Talent
* Employment Offers Candidates Can't Refuse
https://www.captis.com/wp-content/uploads/2012/12/enewsletters.biospace.comscientist-160-cead2c675d1fe41da4b4b3651fbbe344b792f363.jpg
119
160
CAPTIS
https://www.captis.com/wp-content/uploads/2016/11/logo_transp_top_final.png
CAPTIS
2012-12-16 15:00:00
2017-03-22 17:05:08
5 Predictions for 2013: Top Trends in Life Science Recruiting