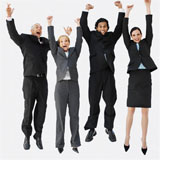 This article was originally published
here
She boldly–or should I say, smartly–marched into the company's building and asked to see a manager. She was interviewed on the spot. Subsequent interviews led to a job offer.
Imagine, this opportunity came about from talking with a complete stranger.
It's about structure, right? When we think of networking, images of structured events come to mind. Numerous books and online articles focus on how to successfully network at events, where jobseekers gather to exchange information and advice. Because many people congregate in one place, it's assumed that the best opportunities will be found at these locations. But will they?
Formal networking events strike fear in the heart of many talented jobseekers, most notably introverts who prefer smaller groups and more in-depth conversation. But even extraverts attest to the stressful environment caused by this type of forced environment. To make things more stressful jobseekers are expected to deliver their elevator pitch and expound upon their greatness. This is enough pressure to intimidate even the bravest souls.
It's about chance, too. Sometimes opportunities present themselves when you least expect them, such as the time when my former customer happened upon the employee of the wedding planning company. This goes without saying that you must be ready to network at a moment's notice.
For those who aren't so fond of formal events, moments like these provide the perfect opportunity to connect in a more natural, spontaneous manner. There are no expectations, no established rules; it's comfortable. It doesn't mean, however, that you can ignore the basic premise of networking, which is always being at the ready.
Be prepared to talk about yourself in a positive, natural way. No one wants to help someone with a negative, woe-is-me attitude; rather they prefer to help someone who portrays hope and confidence. It also helps to have your business cards ready. Don't force them on people, but if someone asks how they can contact you, offer your crisp, clean card that explains your areas of strength and perhaps a branding statement. Now that's impressive.
Most important is your ability to tell people how you have and can help companies succeed. Anyone can spout the duties they've performed for their employer, but can they explain with enthusiasm the value they delivered? "I love sales and have been the top salesperson at most medical companies I've worked for" is better than, "I sold electronic devices for the medical industry." (I'm sure this is how my former customer spoke with the hiring manager at the wedding arrangement company.)
Speaking of chance. There are plenty of opportunities for chance meetings. Below is a short list of places where natural networking can happen. I'm sure you can think of more, or have stories to tell of how you networked at some not-so-typical places.
1. Family gatherings
2. Religious affiliations
3. Youth sporting events
4. Career centers
5. Convenience stores
6. Grocery stores
7. Weddings
8. Museums
9. Hair Salons
10. Coffee shops
11. Restaurants
12. Sports teams you belong to or coach
13. Book stores
14. Cookouts or bar-b-ques
15. Camping trips
16. Cruises
17. Social media
18. College, high school reunions
19. Volunteering
20. Block parties
Don't totally rely on chance. By no means should you discontinue going to networking events. They present opportunities where you can have direct conversations about yours and others unemployment situations. They're a place where relationships can hatch, business cards are exchanged, and follow-up ensues. This article from U.S.News.com explains how to attend events even if you hate networking.
However, keep in mind that some of your best opportunities might come from talking to friends, neighbors, relatives, and complete strangers at various times in various situations. You never know when these superficial networkers will come through for you.
Think about my former customer who is now working at Stratton Mountain. She asked, took action, and is now working for a wedding company, where perhaps other jobseekers attending her weddings might find an opportunity.
About the Author
Bob McIntosh, CPRW, is a career trainer at the Career Center of Lowell, where he leads more than 20 workshops on the career search. Bob is often the person jobseekers and staff go to for advice on the job search. As well, he critiques resumes and conducts mock interviews. One of his greatest accomplishments is starting a LinkedIn group, which is one of the largest of its kind in the state, and developing three in-high-demand workshops on LinkedIn. Bob's greatest pleasure is helping people find rewarding careers in a competitive job market. Please visit Bob's blog at www.thingscareerrelated.wordpress.com.
Find more biotech jobs here!
Check out the latest Career Insider eNewsletter – October 17, 2013.
Sign up for the free weekly Career Insider eNewsletter.
Related Articles
* 4 False Beliefs About Networking in the Social Jungle
* Networking Tips: Go From Awkward to Awesome
* No One Said Networking is Easy; be Smart and Make the Effort
https://www.captis.com/wp-content/uploads/2013/10/enewsletters.biospace.comjob_seeker19-f9774296e66fb5629cf871f562e2f10a0ff5990d.jpg
170
170
CAPTIS
https://www.captis.com/wp-content/uploads/2016/11/logo_transp_top_final.png
CAPTIS
2013-10-16 16:00:00
2017-03-22 17:48:12
20 Overlooked Ideas for Networking Like a Pro